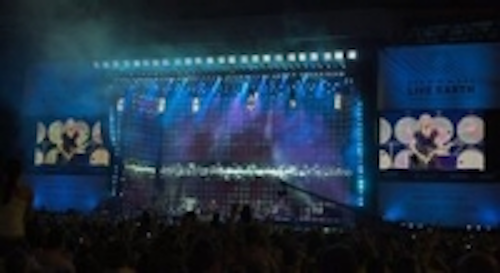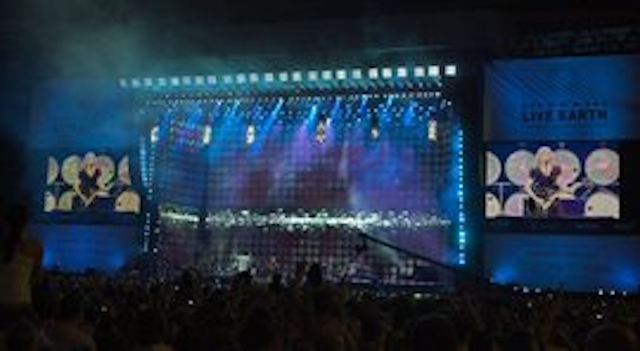 Date Announced: 16 Jul 2007
Twenty-four of i-Pix' new mega-bright BB wash-lights were in action for the Live Earth London show at Wembley Stadium, mounted on the front truss header and used instead of normal 8-light blinders.
Using the BBs enabled in the blinder role a six-fold reduction in power – the units consumed a total of just 76.8 amps on full power, with each unit pulling just over 1 Amp per colour over its 16 cells) ….. had 24 conventional blinders been used, they would have drawn 497.8 amps!
The BBs were selected by the London event's lighting designers Patrick Woodroffe (responsible for the stage/show lighting) and Mark Kenyon (responsible for the TV and BBC's lighting requirements), and supplied by lighting contractor PRG London – along with all the other equipment.
Lighting for the Live Earth concerts challenged its designers to make the rig as energy-efficient as possible, so they used as many high output, low-energy lighting fixtures as possible - including LED and HMI sources (tungsten elements were reduced to an absolute minimum).
Ahead of the 07/07/07 event, PRG's project director Carol Croft approached a series of LED lighting manufacturers including i-Pix and asked them to present their technology at a demo for Woodroffe and Kenyon to assess first hand. From there they chose which fixtures to use – and where to position them on the rig.
Apart from their incredible brightness, the BB's also offer precise millisecond colour changing – which replaces the need for colour scrollers and their associated maintenance.
Each BB Washlight features four dismountable 2 ft battens fitted with 4 RGB cells each using a custom RGB LED and a novel optical arrangement to deliver a blended source of exceptionally high power. They are particularly impressive when run in multiples.
Each unit produces an astonishing 17,600 lumens! However in practice, with additive colour mixing (the basis of all LED devices) they consume and deliver only the chosen colour gamut, so there is absolutely no wastage involved in the filtering process.
Each batten can be run as an individual unit with 16-bit control, and super fast colour strobing sequences can be achieved.
Woodroffe and Kenyon also chose 86 of i-Pix' popular Satellites LED fixtures for the Live Earth London show, which were rigged on horizontal trusses and vertical side trusses framing the proscenium arch. These 86 heads on full power consumed a mere total of 14.91 A.
The BB and Satellite units were run from a Catalyst system via a WholeHog II lighting console operated for the show by Nigel Catmur and Will Charles.
Chris Ewington of I-Pix says, "It was a great honour to work on this show with Patrick, Mark and PRG. As a company, we are thoroughly committed to all the values and goals of the Live Earth campaign and all our products, including the BBs and Satellites have been developed with excellent green credentials at the forefront of their spec."
Metallica, one of the acts in the London line up, also played their own show at Wembley Stadium the following day, again using equipment supplied by PRG that included the BB's which were left in from Live Earth. Their LD Butch Allen states enthusiastically, "I just love these fixtures – amazing!"
Nine other Live Earth concerts also took place around the world including Australia, Brasil, China, Japan, South Africa, Germany and the US.
Furthermore 32 i-Pix Satellites were chosen by Gearhouse South Africa – also the new i-Pix SA distributor - who took delivery of the units just in time for their event in Johannesburg.
i-Pix has ramped up its BB production since this batch was delivered to PRG for Live Earth following an avalanche of positive responses from LD's throughout the summer.
Contact
i-Pix Tel. +44 (0)161 443 4140
E-mail:louise@loosplat.com