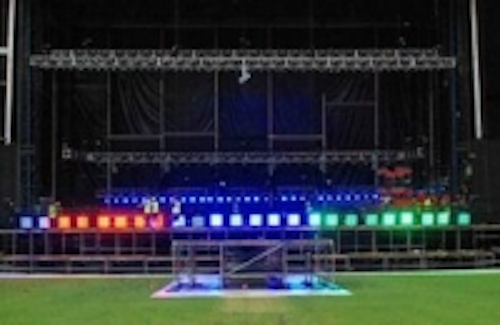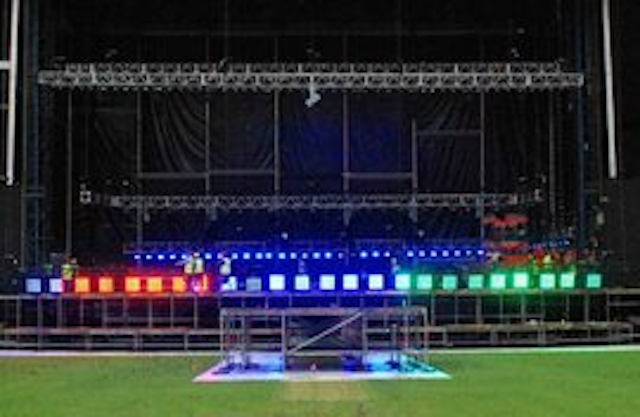 Date Announced: 16 Jul 2007
CHESHIRE, UK – Lamina, a world-leading LED light engine manufacturer, was selected by leading lighting design firm i-Pix to be an integral part of one of the most monumental theatrical lighting projects of 2007, the 24-hour 7-continent Live Earth concert series which took place at Wembley Stadium in London on July 7, 2007.
In keeping with the energy-efficient doctrine of the Live Earth organization, the entire production design followed sustainable light design principles which included the use of Lamina's solid state LED lighting. Live Earth Lighting Designer Patrick Woodroffe chose 24 x BB washlights to be rigged along the front truss of the stage.
The 24 x BB washlights collectively were powerful enough to be used as audience blinders/washlight for the stadium, a major step for LEDs.
The Lamina lights achieve this high power output while consuming only 76 amps of energy. To achieve the same effect using traditional lights, 480 amps of power would be consumed. The use of Lamina lights reduced the energy consumption to one sixth of that of traditional fixtures.
"The Live Earth concert required high power output and low power consumption, and Lamina's product was perfect," said Chris Ewington, president of i-Pix. "Lamina's products allow us and our customers to do our bit in reducing power consumption, without compromising on performance."
Ewington added that from a lighting perspective the venue itself presented certain challenges. "The sheer quantity of light needed to illuminate the stage alone was astronomical and the quality of light had to be on par as well. To do this in the past using LEDs would have been unheard of."
i-Pix wanted a powerful LED light engine source, opting for a custom design from Lamina that supplied the correct color specified by Woodroffe. With the output blended at the Lamina LED emitter, Woodroffe was assured of an impressive color gamut while delivering a rich red, green and deep blue primary start point.
The unit, when mixed, produced subtle violets and amber hues, as well as different types of white. The unit is a four-fixtures-in-one design, configured as a self-contained or remote device to ensure more creative freedom when washing light on a large scale.
"As a company whose mantra is the development of innovative and energy-efficient lighting technologies, we couldn't have been more delighted to have our LED products as a key part of i-Pix's lighting design, and the Live Earth concert," said Frank M. Shinneman, President and CEO at Lamina.
Lamina is the developer of the brightest commercially available LED light engines. Products include a series of light engines with outputs as bright as many traditional lights used in home, office, retail, commercial and theatrical applications, as well as an LED-based replacement lamp designed as a direct, ready-to-plug-in retrofit for 20-watt MR-16 halogen and comparable compact fluorescent lamps (CFLs) while consuming less than 7 watts of electricity.
About i-Pix
i-Pix is a forward thinking solid state lighting manufacturer, with a design emphasis on good quality products for a life on the road around the world. The entertainment lighting field requires good quality, durable products, delivered simply allowing easy configuration. The hard working team behind i-Pix has grown at an exponential rate to cope with the repeat business they now enjoy. Their British customer base ensures good stock levels of fixture are available. Their reach has been UK-based but is now expanding to encompass a growing international base. For more information, visit www.i-pix.uk.com.
About Lamina
Lamina defines the state of lighting technology with the development and manufacture of high power LED light engines. Lamina's proprietary packaging technology provides unsurpassed thermal management and interconnectivity enabling the delivery of highly reliable and functional solid state lighting solutions for myriad applications. Lamina was founded in 2001 and is headquartered in a state-of-the-art, automated manufacturing facility in Westampton, New Jersey. For more information, visit www.laminalighting.com.
Contact
Lamina
E-mail:info@lamina.com
Web Site:www.laminalighting.com