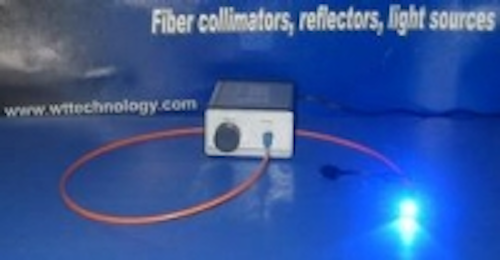 Date Announced: 05 Oct 2007
WT&T Inc has introduced compact, enhanced output power fiber-coupled broadband light source LE-1BC, designed for optical spectroscopy, illumination, sensing and fiber-optic measurement/characterization. Plug and play device is housed in compact aluminum body with remote "On/Off" control input, power regulation, active air cooling and 1 meter long connectorized optical fiber pigtail.
- Fiber-coupled power: up to 25 mW
- Central wavelength: ~ 465 nm
- 1 m long FC- or SMA-connectorized fiber pigtail (POF 1.5 mm)
- built-in electronic drivers, optical power control and air-cooling
- compact (8x5x16 cm) and rigid
- external "On/Off" control input
Please contact WT&T sales@wttechnology.com for other options.
Contact
WT&T Inc. Quebec, Canada tel: +1 (514) 804-0822 fax: +1 (514) 551-0617
E-mail:sales@wttechnology.com
Web Site:www.wttechnology.com