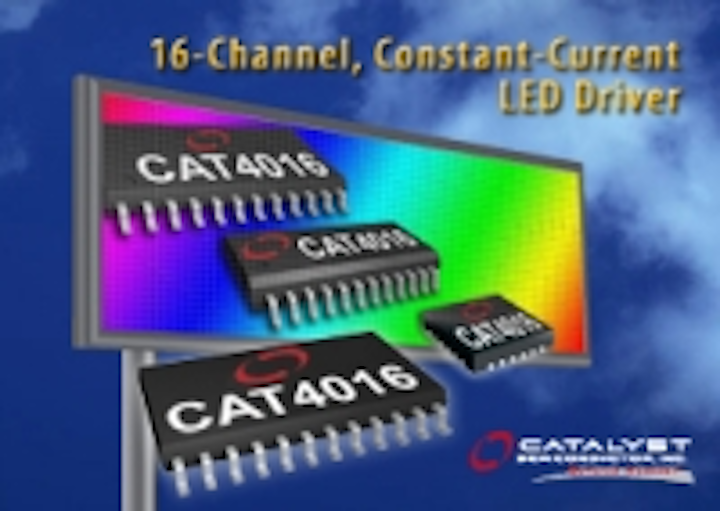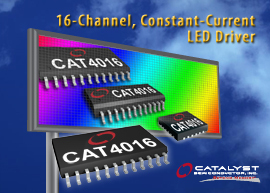 Date Announced: 03 Oct 2007
SANTA CLARA, Calif. – Catalyst Semiconductor, Inc. (NASDAQ:CATS) a supplier of analog, mixed-signal and non-volatile memory semiconductors, has expanded its LED drivers with the first in a new family of devices to address large LED video displays. The new CAT4016 is a 16-channel, constant-current sink LED driver designed for billboard, marquee, instrument and other larger, general-purpose LED displays in both indoor and outdoor applications.
The CAT4016 LED channels can operate with an output voltage as low as 0.4V (for 2mA to 100mA LED current), to enable more power-efficient designs. The maximum LED current is set by an external resistor. A high-speed, four-wire serial interface with up to 25MHz clock frequency, controls each individual channel using a shift register and latch configuration. A serial output data pin allows multiple devices to be cascaded and programmed via one serial interface. The CAT4016 also features a thermal shutdown protection function to disable the LED outputs if the die temperature exceeds a set limit.
A replacement for popular devices from Macroblock, Toshiba and others, the CAT4016 is available in a wide range of package options including 24-lead SOIC, TSSOP, QSOP and TQFN (4 x 4mm).
Product Features
- 16 constant-current sink channels
- Serial interface with up to 25MHz clock frequency
- LED current range from 2mA to 100mA
- LED current set by external resistor
- 300mV LED dropout at 30mA
- Thermal shutdown protection
- Packaging: 24-lead SOIC, TSSOP, QSOP and TQFN (4 x 4mm)
Price and Availability
The CAT4016 LED driver is priced at $0.54 each in 10,000 piece quantities. Samples of the CAT4016 are available now Projected lead-time for production quantities is currently 6 to 8 weeks ARO.
Contact
Sherry Hill Telephone: 408-542-1080
E-mail:sherry.hill@catsemi.com
Web Site:www.catsemi.com