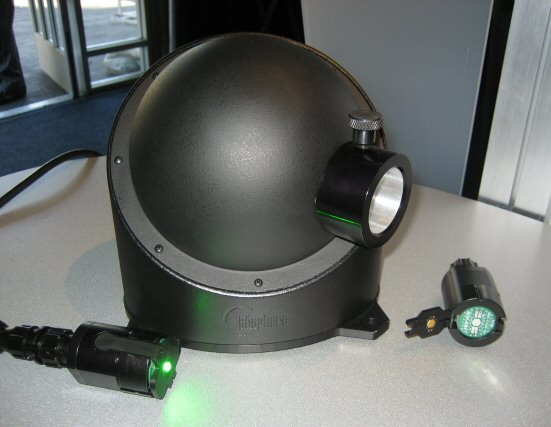 Date Announced: 23 Oct 2007
Labsphere, Inc (North Sutton, NH, USA) announces its new line of LED measurement solutions, the LED-060 Systems. The LED-060 lets you load, light, and test your LED in less than five seconds, with spectral results in milliseconds from 350nm to 1050nm.
The LED-060 is an out-of-the-box solution designed specifically for users looking to quickly and affordably evaluate packaged LEDs. No need to access the interior of this sphere to make a measurement: Simply snap the LED into the socket, slide it into the integrating sphere's receiving sleeve, turn it on and click your mouse. In milliseconds you will know the total spectral flux, radiant and luminous flux, chromaticity coordinates, CCT, peak wavelength, dominant wavelength and for white LEDs, CRI.
Intuitive software provides research grade results at your fingertips. A NIST-traceable total spectral flux standard is integrated into the base of the sphere for effortless in-house system calibration and verification.
"The LED-060 was designed around our customers' requests for an economical way to efficiently evaluate their packaged LEDs," commented Greg McKee, Labsphere's Light Metrology Category Director. "To do this we went into their labs to truly understand their testing environments. This allowed us to design something that provided ergonomic ease in a small, clean design so repetitive testing could be done rapidly in a tight environment."
The LED-060 provides NIST traceable measurements and incorporates CIE recommendations for testing LEDs. The LED-060 provides a practical solution for today's testing environments.
For more information about any of these systems or components, please visit www.labsphere.com.
About Labsphere:
Labsphere is a global leader in innovative light measurement technology. Products include light measurement systems for LEDs, lasers, and traditional light sources; uniform light sources to calibrate imaging devices and camera systems in the visible and IR; and reflectance standards for calibrating spectroscopic measurement systems. Labsphere also provides systems and components to OEMs in numerous industries, including spectroscopy, laser diode test and measurement, semiconductor, and medical.
Contact
Christina Chase, Labsphere Marketing Director Tel. +1 (603) 927 4266
E-mail:cchase@labsphere.com
Web Site:www.labsphere.com