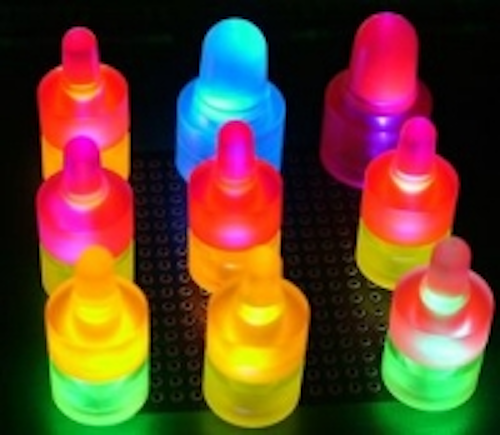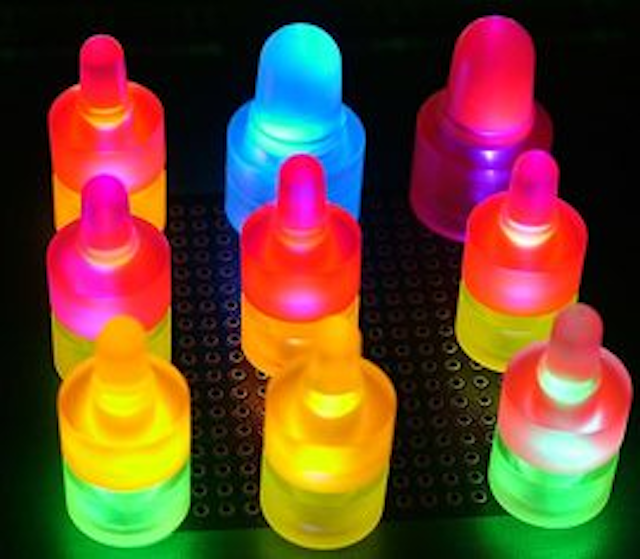 Date Announced: 29 Oct 2007
Eugene, Oregon -- Light Beam Industries, LLC, a leading technology firm dedicated to providing eco-efficient lighting solutions utilizing its patented wave guide, diffraction grading and LEC materials, has developed a new Solid State Designer LED-C™ (Light Emitting Diode Converters) System. The Solid State LED-C™ Material is based on patents created by inventor Daniel Naum.
This new material gives the ability to create a system in which a monochromatic or White LED is used and then the Solid State Lighting source is embedded in the LED-C material, creating a monolithic component, which then converts all of the energy from the LED and re-emits at the color chosen.
The new designer LED–C can, through wavelength manipulation, produce colors and hues not available in standard LED's. President Mark Benson states, "The LED–C also offers a new way to generate white light, using multiple LED–C colors, and allows us to produce white light from 3000 degree K to 6000 degree K with a completely accurate color distribution. You no longer have to rely on the "bin allotment" to control the quality of light from your LEDs."
"The designer LED–C can produce wavelengths from 440nm to 660nm with current drive levels from 5mA to 400mA and has a life expectancy of up to 100,000 hours," CEO John Darland states. This means that there are no longer color gaps in the visual spectrum where LEDs are concerned.
LED–C material has a wide variety of potential applications which range from exact color matching in signage needs to low power – high output brilliant colors in instrument panels and switches as well as other scientific applications. By utilizing LED–C for your LED color needs, you not only accomplish brilliant color output in any color of the visual light spectrum but you're getting the light using very low power consumption.
LED–C uses fluorescent dyes in a polymeric matrix and solid state light source to generate multicolored light as well as true white light from 3000K to 6000K. This patented material also gives you the ability to create one, two and even three or more colors generated simultaneously from a single solid state monochromatic color.
"We've not found another material that would allow you to produce such a broad light spectrum range while utilizing LEDs for your power source. We can now create the deep reds that, for example, Coca Cola and Budweiser require for their signage and there are a million other applications as well," says John Darland, CEO.
Future research and development will focus on nano-crystalline lasing structures incorporated in a plastic matrix (paint-on nano lasers) with further potential applications in lighting, solar collection, visual displays as well as search and rescue. Mark Benson – President said, "The future is bright and LED–C Designer LEDs create tunable – consistent colors for a vast range of applications many of which were previously unobtainable."
About Light Beam Industries, LLC
Light Beam specializes in eco-friendly high performance Fiber Optic Lighting Systems. Utilizing our patented technologies, we are able to provide the most innovative and efficient products including Illuminators, Fiber, Light Panels, Fluorescent Material (LECs) as well as solid state custom lighting projects.
Our mission is to provide the world with superior products and services, using innovative solutions that improve the efficiency of lighting with fiber optics and cold light technologies to satisfy our customer needs, in an eco-friendly manner.
Contact
Light Beam Industries, LLC PO Box 2505, Eugene, OR 97402 Ph: 541-228-3650 Fax: 541-228-3691
E-mail:info@lightbeaminc.com
Web Site:www.lightbeaminc.com