HPLighting launches the world's smallest All-Metal 0.5W, 1W SMD high power LEDs
Oct 25th, 2007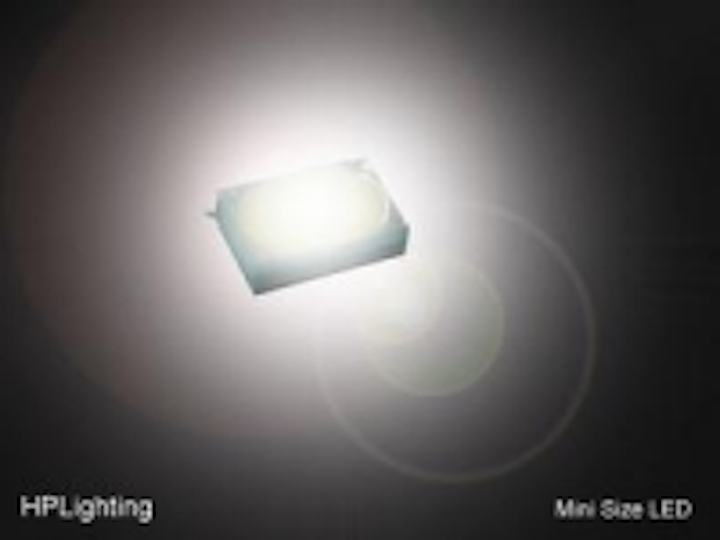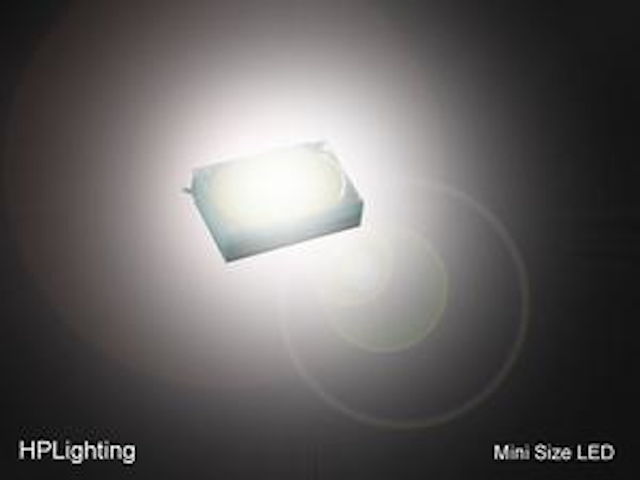 Date Announced: 25 Oct 2007
HPLighting offers the world's smallest (3mm x2mmx 0.8mm) All-Metal 0.5w, 1W SMD high power LEDs
High Power Lighting Corp (HPLighitng), a professional in LED package design & manufacture company, has introduced the new All-Metal SMD High Power LED series, 0.5w~1w (3 x 2 x 0.8mm) see picture. These series are ideal for various applications such as LCD backlighting, flash light, architecture lighting and general lighting and so on.
HPLighting's patented technology enables the new All-Metal High Power LED package to achieve 0.5W output of 15 lumens at 150 mA and 1W output of 35 Lumens at 350mA with different chip size.
3mmx2mm high power LED can offers great versatility for applications in which space is at a premium, i.e. camera phone & DSC, but high brightness is still needed.
The good thermal properties of the 3mm x 2mm LEDs, combined with short switching times, make rapid flash frequencies to be achieved and high intensity with currents up to 1000 mA.
The 0.5W & 1W LEDs are based on a 30x30-mil & 40x40-mil chips and can be operated either in pulse mode or continues mode. The rapid flash frequencies make handheld mobile appliances for short flash sequences or complete series of pictures.
The All-Metal 3mm x 2mm high power features:
- High brightness: 0.5W (15 lumens @ 150mA, constant mode;
24lumens @350mA pulse mode)
1W (35Lumens @ 350mA, constant mode;
59lumens @1000mA , pulse mode)
- Reflow solderability (SMD Type)
- Viewing angle: 120 deg
- Color Temperature: warm white (2700-3000K),Natural white
LED (3500-4500K), pure white (6500K) and blue white (7000-
10000k)
- Color Choices: White, Blue, Green, Red, Amber, Orange &
Yellow
The package is completely RoHS and WEEE compliant making it suitable for products with global integration and use.
The All-Metal High Power series are available from stock now. Samples are available to qualified OEM customers. The All-Metal High Power series is shipped 1000 pieces per reel in anti-static bags.
About High Power Lighting Corp.
A professional manufacturer focuses on the high brightness LED packaging and lighting module R&D and manufacture. The major shareholders are United Microelectronic Company & Quanta Computer group.
We have not only the advanced production equipment but also an outstanding technology team. The management team is composed of the machinery expertise from specialized fields such as software, hardware, optical, chip process and package. In addition, our design center in Japan already has taken the lead in completing the high power LED package, lighting module design technology and the patent, and uses the special technology and the manufacture process to enhance the LED's brightness and the stability.
At present, the main products widely are used in the LCD backlighting, Flashing light, Auto lighting, the indoors / outdoors illumination and so on.
HPLighting is ISO9001:2000 certified.
Contact
5F, No.173-8, Yung-Fong Rd., Tu-Cheng city Taipei Hsien, Taiwan, ROC. Tel: +886-2-8262-8886 ext. 1088 (Ken) Fax: +886-2-8262-8885
E-mail:ken.chen@hplighting.com.tw
Web Site:www.hplighting.com.tw