Maxim's high-voltage, HB-LED driver reduces cost, part count in automotive and general lighting
Oct 2nd, 2007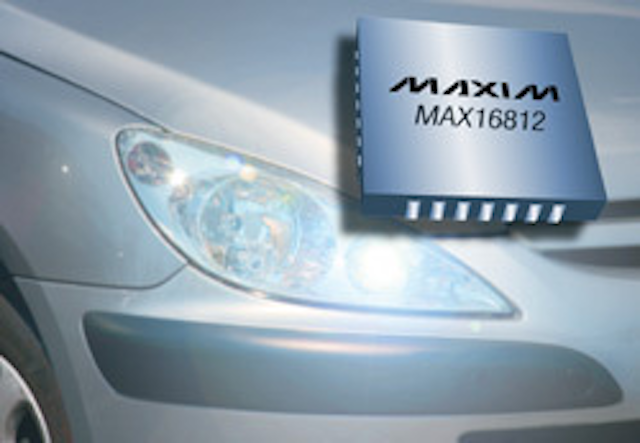 Date Announced: 02 Oct 2007
SUNNYVALE, CA. Maxim Integrated Products (NASDAQ: MXIM) introduces the MAX16812 high-voltage, switch-mode, high-brightness (HB) LED driver with analog and PWM-dimming control.
To minimize component count and cost, this device integrates a high-side/differential LED current-sense amplifier and a PWM-dimming MOSFET driver.
Additionally, it integrates a 76V-rated, 0.2 ohm switching MOSFET and provides a wide, 100kHz to 500kHz operating-frequency range to ensure maximum flexibility. The highly integrated, flexible MAX16812 is ideal for compact HB LED driver applications that require a wide, 100:1 dimming-control range such as interior and exterior automotive, emergency, architectural, and other lighting applications.
The use of an internal dimming MOSFET driver enhances system reliability by automatically switching off power to the LED strings during automotive load-dump events.
To further enhance reliability and ensure even brightness matching, the MAX16812 provides ±5% accurate LED-current control. An on-board, 200Hz ramp generator allows PWM-dimming control with an external analog signal, or it can be synchronized to an external PWM signal. Linearly controlled PWM dimming greatly simplifies implementation of two-level brightness control and theater dimming.
During PWM dimming, the MAX16812 controls the LED current rise and fall times to suppress electromagnetic interference (EMI) and system noise. To further reduce EMI, an external resistor can be connected between the gate driver and internal switching MOSFET for control of the switching current rise and fall times.
Designed to withstand harsh operating environments, the MAX16812 operates from a 5.5V to 76V supply-voltage range, thus ensuring cold-start and load-dump compliance. This HB LED driver also features overvoltage protection, undervoltage lockout, soft-start, and thermal shutdown. The MAX16812 is fully specified over the -40 degrees Celsius to +125 degrees Celsius automotive temperature range, and is available in a thermally enhanced, 5mm x 5mm, 28-pin TQFN package. Prices start at $2.10 (1000-up, FOB USA).
DATA SHEET: A Data Sheet for this product is available on the web.
http://www.maxim-ic.com/MAX16812
Contact
Customer Service Tel. 1-800-998-8800
E-mail:PR-USA@maxim-ic.com
Web Site:www.maxim-ic.com/solutions/hb_led_drivers/index.mvp