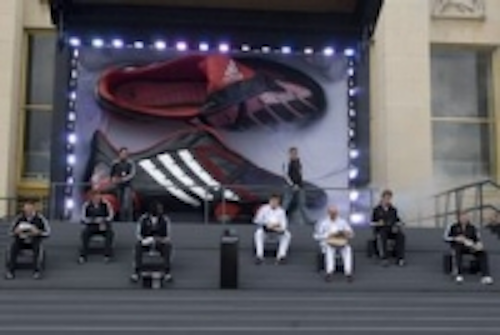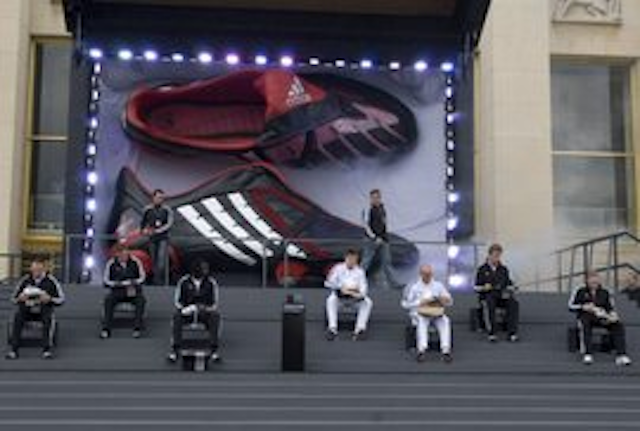 Date Announced: 01 Dec 2007
Lighting designer Nick Jevons of Electric Fly Productions used 60 i-Pix Satellites to create a spectacular effect for the Paris launch of the Adidas "Predator" PowerSwerve football boot.
Electric Fly was working for brand experience agency Slipstream who brought them onboard to provide all the specialist lighting and effects required for the high profile event.
Staged at the Trocadero, in front of the Eiffel Tower, the set – built by Stage One - consisted of a large 6 x 8 metre 'shoe box' which was set up 2 days prior to the launch and acted as a count-down monitor. Three LED strips were installed along the sides of the box that flashed every second.
England's Steven Gerrard and Liverpool team mates Dirk Kuyt, Andriy Voronin and José Reina were joined by a host of international football stars for the box opening event.
When the time came for this to happen, accomplished with the aid of a hydraulic ram, a giant model of the new boot was revealed – illuminated by the 60 Satellites. Thirty fixtures highlighted the boot while the other 30 pointed into the crowd.
As soon as Jevons received the brief from Slipstream and assessed the job – for which they only had 10 days to come up with a lighting solution – he knew that Satellites were the perfect fixtures for the job.
The Satellites were supplied to Electric Fly by HSL. Jevons has used Satellites on numerous lighting designs of all types over the last year and says, "They are absolutely ideal for this type of a(?) show. We needed a really robust fixture as it was an outdoor event in November – and whatever the weather decided to do, it would be challenging".
He adds that their brightness also created exactly the sort of spacey effect he required for the reveal, and that, coupled with the low power consumption and expedient size, means Satellites are totally practical fixtures to use pretty much anywhere, anytime.
Jevons adds that it's also extremely useful from a technical application point of view to be able to daisy chain power/data to them, and in this case, they had just 6 cables to control all 60 fixtures.
The launch event was a massive success. Lighting was programmed by Jevons and Phil Winward, and overseen and operated for the show days by Jake Jevons, using one of Electric Fly's Avolites Pearl consoles.
Contact
Call i-Pix direct on +44 161 227 8084
E-mail:louise@loosplat.com