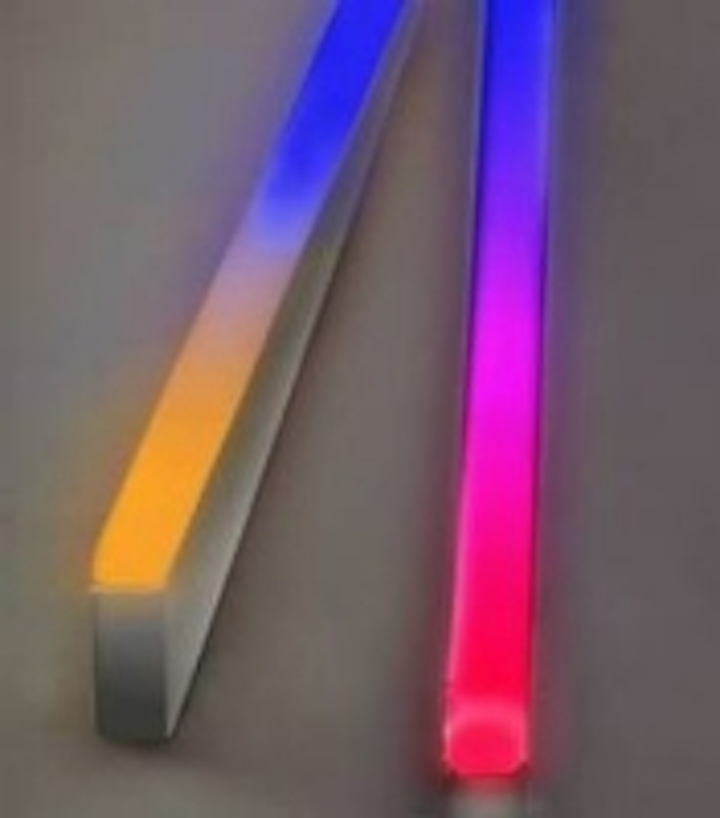 Date Announced: 13 Dec 2007
CHICAGO – iLight Technologies, Inc. (www.ilight-tech.com), a leader in innovative LED illumination solutions, launches a new, alluring linear LED lighting fixture with a full spectrum of color changing possibilities using the latest RGB technology at LDI in Orlando,
FL.
Designed to fit in the most discrete areas, Hypnotica is sure to create enchanting effects and environments – whether used as interior or exterior accent lighting, or in cove applications.
Hypnotica offers smooth, even light output along the entire length of the fixture, making it a visually rich and captivating direct view system.
"In bringing this product to market," states iLight President & CEO, Sean Callahan, "iLight fuses leading edge DMX and RDM technology from our partner, Pathway Connectivity, with our own unique lighting technology to provide designers with a sleek and technologically advanced color changing product."
This slender RGB fixture is DMX 512 compatible for fully dynamic color control such as sequential color changing, color fading, multi-color blending and dramatic color movement in six inch resolution. Hypnotica is one of the first color changing products on the market with Remote Device Management (RDM) capability, allowing intelligent, bidirectional communication between our fixtures and RDM controllers giving you greater feedback and control than ever before.
Hypnotica will be available to ship in December 2007.
About iLight Technologies, Inc.
iLight Technologies, Inc. is a leader in innovative LED illumination solutions that transform, excite, and energize corporate identities and architectural environments worldwide. iLight's award-winning
products blend the benefits of LEDs with patented application systems that create lighting products that have high brightness with a smooth even glow.
The company currently holds thirty patents, including one for the Plexineon technology, and has fifty-six additional U.S and international patents pending in other LED lighting systems beyond linear lighting. iLight Technologies was founded in 2000 and is headquartered in Chicago, IL and manufactures in Cookeville, TN.
Contact
Elizabeth Randgaard, iLight Technologies, Inc. T: 312.876.8630
E-mail:erandgaard@ilight-tech.com
Web Site:www.ilight-tech.com