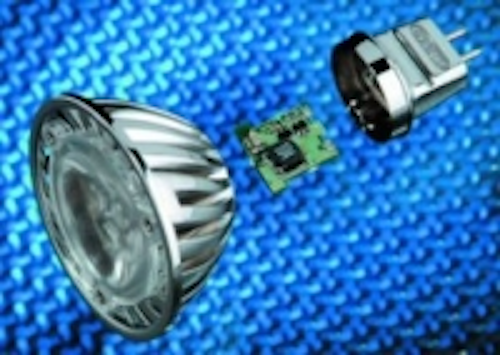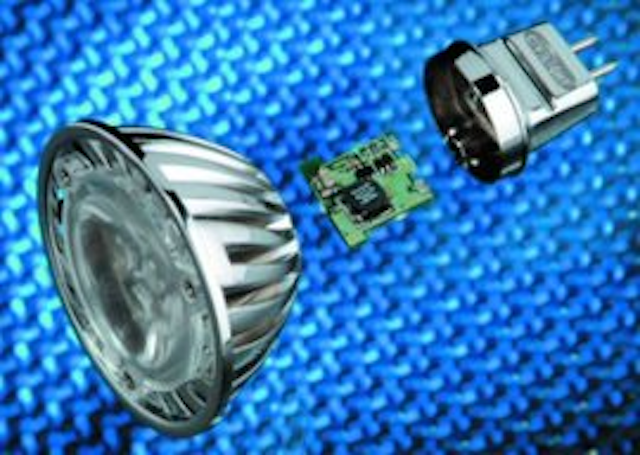 Date Announced: 13 Dec 2007
Hauppauge, NY… Zetex Semiconductors has developed a unique, dedicated chipset and reference design for MR16-compatible LED lamps. The chipset significantly decreases PCB size and weight in lamp necks, lowers manufacturing costs, and reduces the component count of existing solutions by up to 50%.
Chris Jolly, VP Marketing, Smart Application Specific Products at Zetex Semiconductors said, "The chipset is an optimized and highly robust solution for the MR16 application and confirms Zetex's technology standing in the lighting sector. Customers were telling us that existing MR16 LED lamp designs simply weren't optimised for efficiency and ease-of-manufacture. We took a tailored, top-down approach to make sure ours was."
The Zetex MR16 chipset is highly integrated, handling all associated power rectification, LED current control and protection functions. It enhances lighting class LED's reduced Total-Cost-of-Ownership (TCO) over halogen reflector lamps, the current format in directional lighting applications. MR16 LED solutions offer maintenance-free reliability, and improved efficiency, brightness, coolness, efficacy, lifetime, color temperature and white point stability.
Irving Pun, Director, Global Markets Development at Civilight Shenzhen Semiconductor Lighting Company said, "In the manufacture of MR16-compatible LED lamps, the electronic control solution that's deployed needs to be reliable. What Zetex has given me here is a very simple and highly-manufacturable solution. It allows me to focus my attention on optimising the thermal and optical performance of our MR16 product."
Paul Thieken, Cree Director of Product Marketing for XLamp™ LEDs said, "We have worked closely with Zetex for a number of years and firmly believe that this chipset, when combined with Cree LEDs, can provide MR16-compatible lighting manufacturers with an optimized, overall solution for what is a technically demanding application."
According to Jolly, "It's also important not to overlook a significant green argument for switching to MR16-compatible LED lamps. LED-based lamps have a lifetime five times longer than their halogen counterparts, and play a key role in the fight to reduce energy consumption and the carbon footprint of residential and commercial properties. Over its lifetime, each LED-based lamp can help reduce green house gas emissions by up to a ton, if used instead of traditional halogen lamps.
A design note on the Zetex MR16 LED lamp solution can be found at:
http://www.zetex.com/3.0/appnotes/design/dn86.pdf
Available now from authorised distributors, the MR16 Chipset is unit priced $0.90 at 1,000 quantity. Delivery is 4-6 weeks in production volumes.
About Zetex:
Zetex Semiconductors designs and manufactures high-performance analogue semiconductors for a broad spectrum of applications, with a particular focus on LED lighting, audio and DBS applications. Its integrated and discrete semiconductor products offer compact, high-efficiency power management and signal processing solutions that meet the demand for greater power efficiency, precision and speed in analog and digital circuit design. The company is headquartered near Manchester in the UK and has design support, manufacturing and sales operations located throughout Asia, Europe and North America. Zetex employs more than 650 people worldwide and is the only UK quoted, vertically integrated silicon semiconductor manufacturer.
Contact
Zetex Inc., 700 Veterans Hwy. Hauppauge, NY 11788 Tel: 631-360-2222 Fax: 631-360-8222
E-mail:usa.sales@zetex.com
Web Site:www.zetex.com