austriamicrosystems launches high-precision LED drivers for local dimming of LCD backlights
Dec 13th, 2007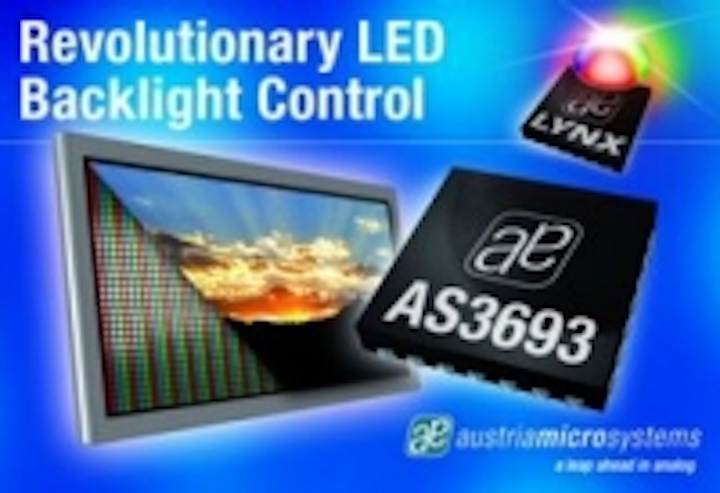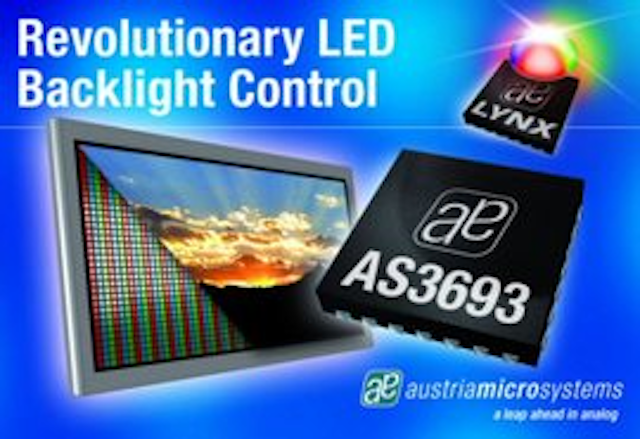 Date Announced: 13 Dec 2007
-- austriamicrosystems launches world's first high precision LED drivers with optimal support for latest local dimming LCD backlight technology
-- AS3693 and AS3694 are ideal for LED backlight control in large LCD TVs, PC monitors and laptops
austriamicrosystems (SWX:AMS), a leading designer and manufacturer of high performance analog ICs for communications, industrial, medical and automotive applications, has extended its high brightness LED driver portfolio with the AS3693 and AS3694, especially designed to support LED-based LCD backlighting applications.
The new LED drivers AS3693 and AS3694 feature optimized synchronization and timing technologies avoiding costly and suboptimal designs based on standard LED drivers. They are ideally suited to fit the latest trend in LCD backlighting which is to synchronize the LCD backlight with the TV picture. So-called local dimming enables only the required segments of the backlight to be on, making bright spots in the TV picture appear really bright and dark parts completely black. This technology allows OEMs to achieve exceptional contrast ratios as well as energy savings.
The new AS3693 and AS3694 LED drivers also offer outstanding driver accuracy of +/-0.5% which guarantees exact brightness and color matching and is ahead of any competitor device currently available on the market. AS3693 offers 16 high brightness LED output channels; AS3694 provides 12 channels and 3 additional DC/DC converters. The brightness and timing of each output can be controlled individually via SPI or I2C. Local dimming is supported by independent PWM generators with programmable delay, period and duty cycle, resulting in optimized TV pictures which are totally flicker-free.
The AS3693 and AS3694 high precision LED current sources have a wide voltage compliance range of 50V supporting the deployment of long LED strings. In addition, an integrated dedicated power supply control technology enables thermal and energy efficient design. The supply voltage for the AS3693 and AS3694 is derived from the LED supply voltage via the build-in shunt regulator. Both devices offer safety features for thermal control as well as open and short LED detection.
Markus Luidolt, Marketing Manager Backlighting at austriamicrosystems, stated: "Our innovative AS3693/94 LED drivers are gaining acceptance among major LCD panel and LCD TV manufacturers with very positive feedback from OEMs after initial tests. austriamicrosystems' high precision LED drivers fit 100% with the latest LCD backlight technologies like local dimming– no matter if RGB or white LEDs."
Demonstrations of the new ICs will be available at austriamicrosystems' off-exhibition suite at CES 2008 in Las Vegas from January 7 -10, 2008.
The AS3693 and AS3694 are available in a TQFP64 package and are specified for -20° to +85°C ambient temperature. Product-specific information and free samples are available at www.austriamicrosystems.com/lighting.
About austriamicrosystems
austriamicrosystems is a leading designer and manufacturer of high performance analog ICs, combining more than 25 years of analog design capabilities and system know-how with its own state-of-the-art manufacturing and test facilities. austriamicrosystems leverages its expertise in low power and high accuracy to provide industry-leading customized and standard analog products. Operating worldwide with more than 1,000 employees, austriamicrosystems focuses on the areas of power management, sensors & sensor interfaces, portable audio and car access in its markets Communications, Industry & Medical and Automotive, complemented by its Full Service Foundry activities. austriamicrosystems is listed on the SWX Swiss Exchange in Zurich (ticker symbol: AMS).
Contact
Hannelore Jurosek Phone: +43 3136 500 5995 Fax: +43 3136 500 5420
E-mail:hannelore.jurosek@austriamicrosystems.com
Web Site:www.austriamicrosystems.com