OS Driver introduces UL/cUL/TUV listed constant-voltage LED drivers for SSL
Sep 4th, 2007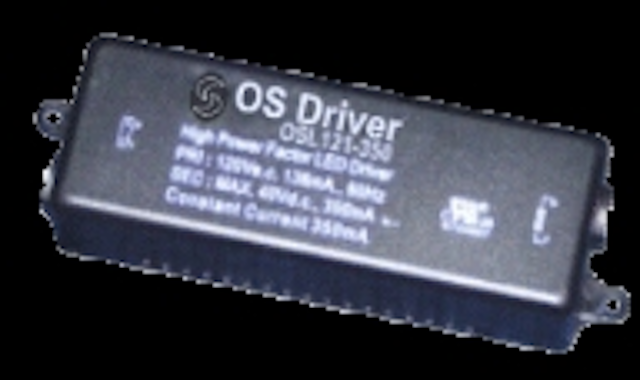 Date Announced: 04 Sep 2007
The new OSL series of constant voltage drivers meet established safety standards and are suitable for a wide range of applications involving High Brightness LEDs.
Riverton, UT -– OS Drivers introduced a new line of constant voltage drivers to complement there already established line of constant current drivers today. The new series is available in output wattages from 3 to 14 watts and input voltage ranges suitable for both North American and European applications.
The entire series complies with FCC Class A standards and is UL/cUL listed Class 2 approved assuring regulatory compliance. Applications range from architectural lighting, signage, general lighting and consumer products. The entire line is suitable for use in any solid state lighting application that requires a constant 12VDC secondary output.
The OSL series is housed in tough, light weight ABS housings and feature an operating temperature range from –10ºC ~ +50ºC. The series includes short circuit, overload, over voltage and thermal protection built in. The unit also has a high power factor of greater than 0.9 assuring compliance with existing and future driver standards.
The OSL series is comprised of a 3-Watt, 7-Watt and 14-Watt models that range in size from 1.7" x 1.7" x .9" for the 3-Watt version to 4.05" x 1.4" x 1.06" in size for the 14-watt version.
"The OSL series is ideally suited for OEM lighting applications that are going to make their way to UL for certification. By using a pre-approved driver, one already recognized by UL, a designer can radically reduce approval cycles," Michael Earlewine, President of OS Driver, commented.
OSL series driver are immediately available from stock with standard pricing starting at under $7 per driver in production quantities (OSL03U-12V) For more information, contact OS Driver at 801-553-9948 or visit OS Driver on-line at www.osdriver.com.
About OS Driver, LLC
OS Driver deigns and manufactures high performance drivers for today's high-brightness LEDs for use in the Solid State Lighting and Signage industries. These drivers are designed for lighting products that can be used worldwide in high-profile applications within the architectural, public spaces, theater lighting, retail, residential, landscape, signage, entertainment, hospitality, fine arts, and commercial markets. OS Driver also provides OEM design and manufacturing services for some of the top names in the lighting industry.
The OS Driver product line includes a variety of low to medium output constant current and constant voltage drivers that meet UL Class 2 and FCC Class A standards as well as "wall pack" and "brick-style" supplies for custom OEM applications.
Contact
OS Driver, LLC 3214 Thorngrove Circle, Riverton, Utah, 84065 USA Tel: (801) 553-9948
E-mail:engineering@osdriver.com
Web Site:www.osdriver.com