Toshiba high-flux white LED is low-power alternative to conventional lighting
Sep 6th, 2007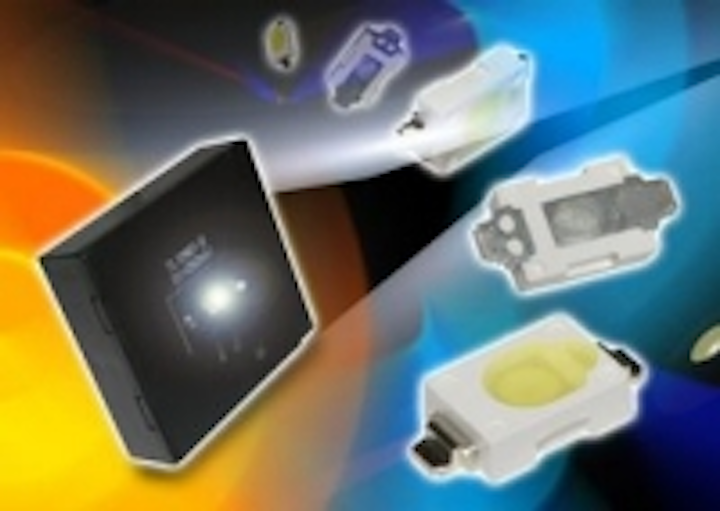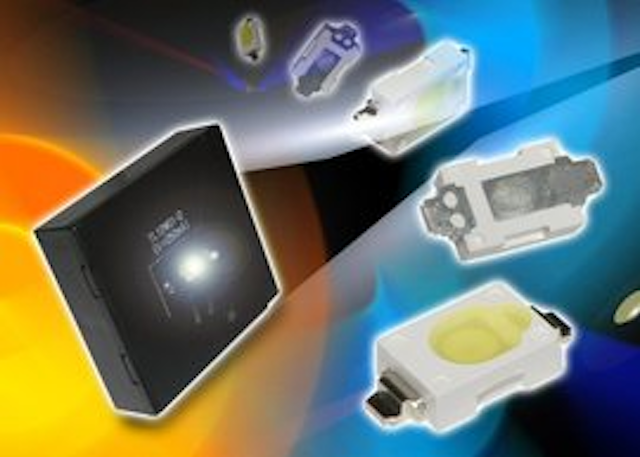 Date Announced: 06 Sep 2007
-- New white LED provides compact, high efficiency lighting for commercial, residential and industrial applications
IRVINE, Calif. -- Toshiba America Electronic Components, Inc. (TAEC), today announced it has expanded its family of white LEDs with a new device that can provide a typical flux of 30 lumens (lm) from a driving current of 250mA.
The new TL12W01-D surface mount LED is ideally suited for many residential and commercial lighting applications that have used conventional incandescent bulbs. With dimensions of just 10.5mm x 5.0mm x 2.1mm, it is also targeted for space-limited applications that require high-brightness LCD backlighting.
Toshiba's TL12W01-D white LED is able to deliver typical performance of 35lm/W as a result of a low thermal resistance package that provides improved heat release characteristics. The forward voltage for the new device is rated at 3.4V (typical) at a forward current of 250mA. A wide operating temperature range of -40°C to 100°C enables use of these LEDs in a broad range of commercial, residential and industrial applications.
Designed for use with automated Lead(Pb)-Free1 production lines, the new surface mount device is compatible with reflow soldering processes at temperatures up to 260°C.
"Toshiba recognizes the growing need for miniaturization of white LEDs coupled with high brightness and low power consumption. The TL12W01-D meets the requirements of various commercial lighting applications and has favorable power consumption characteristics," said Yoshimichi Sasaki, business development director, optoelectronics for TAEC.
Demand for white LEDs is increasing for general lighting applications. White LEDs offer long operating life, low power consumption and compact size compared with incandescent and fluorescent lamps.
Pricing and Availability: Samples of Toshiba's TL12W01-D are available now, priced at $2.00 each.
Major Specifications of the TL12W01-D
Luminous characteristics (typical): 30 lumens @ 250mA
Chromaticity coordinate: Cx: 0.32, Cy: 0.31
Package size: 10.5mm x 5.0mm x 2.1mm, (including leads) Lead (Pb)-Free
Toshiba America Electronic Components, Inc. is an independent operating company owned by Toshiba America, Inc., a subsidiary of Toshiba Corporation, Japan's largest semiconductor manufacturer and the world's fourth largest semiconductor manufacturer.
Contact
Toshiba America Electronic Components, Inc. (TAEC) Irvine, CA
E-mail:Tech.Questions@taec.toshiba.com
Web Site:www.taec.toshiba.com