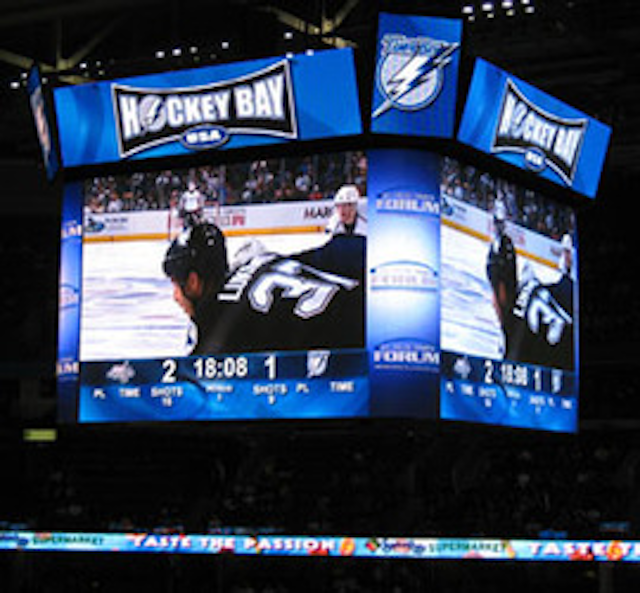 Date Announced: 29 Nov 2007
TAMPA BAY - Palace Sports & Entertainment and the Tampa Bay Lightning have selected HiTech Electronic Displays of Clearwater, FL to design, create and develop a new, multi-million dollar video board system for the St. Pete Times Forum, President Ronald J. Campbell announced today. The video board system will be installed in the Times Forum this September and will be fully operational for the Lightning's regular season home opener versus the New Jersey Devils on Thursday, October 4.
"We are pleased to introduce HiTech as our partner in the design and development of the new video board system for the St. Pete Times Forum", said Campbell in making the announcement. "We were impressed by HiTech's focus on innovation, technology and its cutting edge approach. This has been an exciting project, joining forces with another Tampa Bay company to deliver a unique video board that will set us apart from all others in professional sports."
The new LED (light emitting diode) video board system will include a fully digital, full-color main board hanging over center ice and a 360 degree full-color ribbon board circling the fascia of the arena's lower level. Additionally, amber scoreboards will be installed on the upper level fascia behind each goal. More detail on the new system will be available next week along with full-color static and video renderings of the main video board.
"We are proud to be selected by the Lightning and its management team as the manufacturer of these new video LED displays," said Michael G. Mikurak, Chief Executive Officer of HiTech. "We at HiTech intend to make the St. Pete Times Forum a real live showcase for Lightning fans and other guests at the arena. The new displays ensure that the Times Forum will be at the forefront in video technology of all arenas in the world for years to come."
Empowering the evolution of the digital content marketplace through the manufacturing and development of world-class LED displays, systems and solutions, HiTech has 23 years of experience, creating more than 25,000 field tested displays. Recognized as an industry leader and one of the first firms to release LED technology, HiTech introduced the first single color and 32K color outdoor LED displays. The company's in-house design and engineering capabilities allow its team members to custom design and create innovative display solutions for its customers.
HiTech has delivered custom LED solutions to its customers worldwide, including large stadium displays in Argentina and Shanghai. It also designed and created the Walt Disney World EPCOT globe, a "Lok n Lite" full color video product for the Seminole Hard Rock Casino in Hollywood, FL, a Federal Aviation Authority-approved 30 x 70 foot full-color video board for the American Blimp Company and a 4 x 60-foot video board uniquely adapted at the Billabong Clothing Store in Times Square, New York City.
Contact
Toll Free: 1-800-723-9402 Tel: 727-531-4800
E-mail:sales@hitechled.com
Web Site:www.hitechLED.com