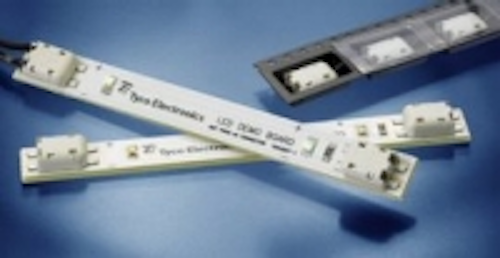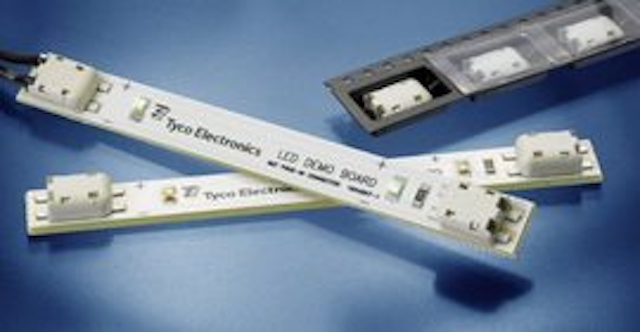 Date Announced: 13 Nov 2007
HARRISBURG, Pa. –– Tyco Electronics Corporation has introduced a poke-in connector for the LED lighting market.
The new poke-in connector is a low-profile, surface-mount (SMT), two-position connector ideally suited for use in PCB-based LED strings, lighting controls, and other applications that can benefit from an easy poke-in wire termination to the PCB.
The Tyco Electronics poke-in connector offers quick and reliable wire termination as a low-labor alternative to hand-soldering wires particularly when used with single-sided aluminum clad circuit boards.
The Poke-in LED connectors are available in tape & reel packages for high speed SMT processing equipment and the high temperature plastic housing is reflow solder process compatible.
The RoHS compliant connector incorporates tin over nickel plated copper alloy contacts with a UL94-V0 rated high temperature thermoplastic housing. Packaged in reels of 800, the tape & reel packaging conforms to ANSI/EIA Standard 481-C
Although optimized for use with 18AWG 6 through 16 strand wire, the Poke-in LED connectors also accepts 18 through 22 AWG solid wire as well as 18 through 20 AWG prebond stranded wire. The connector is UL c/UL recognized for 4A at 48VDC and 4A at 250VAC. Mechanical wire retention is rated for five pounds minimum.
ABOUT TYCO ELECTRONICS
Tyco Electronics Ltd. is a leading global provider of engineered electronic components, network solutions and wireless systems, with 2006 sales of US$12.8 billion to customers in more than 150 countries. We design, manufacture and market products for customers in industries from automotive, appliances and aerospace and defense to telecommunications, computers and consumer electronics. With over 8,000 engineers and worldwide manufacturing, sales and customer service capabilities, Tyco Electronics' commitment is our customers' advantage.
Contact
Tyco Electronics' technical support center Tel. 1-800-522-6752
E-mail:newproducts@tycoelectronics.com
Web Site:www.tycoelectronics.com