Martin LC Series™ LED panels surprise Snow Patrol
Nov 22nd, 2007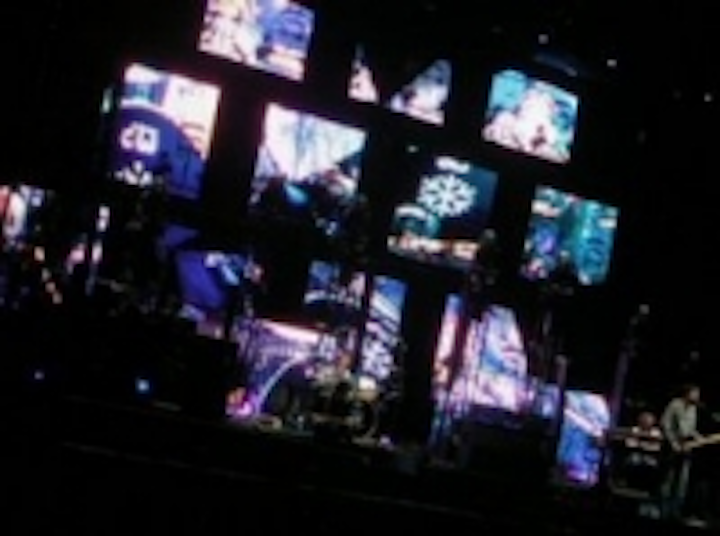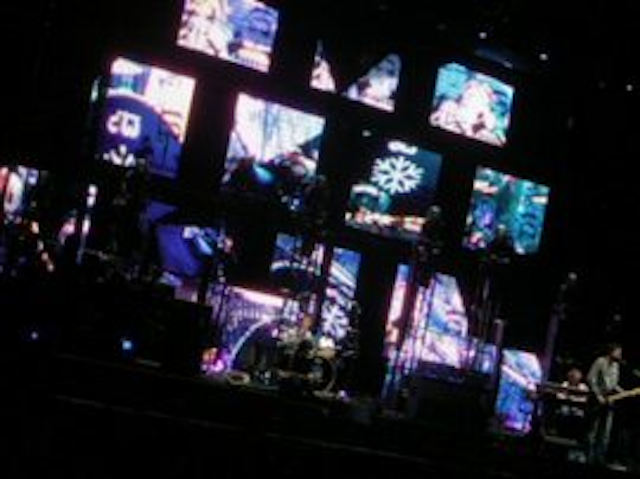 Date Announced: 22 Nov 2007
Grammy Award nominated Belfast rock band Snow Patrol toured Australia this fall, performing hits from their latest and best-selling album, "Eyes Open."
The Australian shows were the last in what has been a mammoth world tour and they caused a dilemma for Snow Patrol's long-servicing lighting designer Davy Sherwin. Throughout the world tour STEALTH modular LED video display screens or Barco MiTrix screens have been an integral element of the show's dynamic lighting but none were available for the Australian dates.
Davy was offered the use of the new Martin LC Panels by Chameleon, who was supplying the lighting and crew for the tour, and he was more than pleasantly surprised by them. Chameleon acquires their Martin gear from Show Technology.
"We were a little concerned about having to use a new product and so straight after landing in Sydney we went to Chameleon to look at these panels," commented Dave. "We were doing large arenas and obviously spending quite a bit of money on production so I was a bit nervous."
However, Davy's concerns soon melted away and he could admittedly uncross his fingers once he saw the Martin LC Panels in action at Chameleon's warehouse.
"I was impressed by their brightness and the resolution was quite good too," said Davy about his first impressions. "It really is a good product. We decided to use nineteen 2 x 1 meter panels most of which we joined together to make 2 x 2 meter squares. These squares were then formed into a kind of pyramid shape behind the band."
Davy was running his visuals through a Catalyst media server, having had them slightly adapted to suit the LC Panel's pixel layout by Glasgow based video artist Scott McDonald. Live images from a remote camera on the stage floor were also fed through the Panels.
LC advantages
Davy was delighted to discover during the tour that there were advantages to using the LC Panels over the STEALTH or MiTrix screens.
"I really liked the reliability of the LC Panels," he divulged. "They worked everyday, first time and they stayed working. We've just spent the Northern summer touring STEALTH to various festivals and you'd find that one day it would take four hours to get working and another day up to ten hours.
"I'd definitely like to use the LC Panels again; maybe a few Panels on the floor behind the band would be good. I use a lot of floor lights and it would be good to put some behind the Panels using their transparency to get some interesting shapes and shadows."
Behind the LC Panels, Davy had a row of Syncrolite B52's that could move up and down thanks to a Kinesys variable speed chain hoist controller.
"The movement of the beams coming through the LC Panels was great," said Davy. "Sometimes I found the LC Panels were actually too bright and almost washing the lights out! But at least you could turn them down to suit. I also had a black gauze scrim in front of them at one time and that diffused them a lot and made it look a lot deeper. Then as the scrim was black the Panels disappeared when they weren't turned on."
The rest of the rig comprised of VL3000's, VL2000's and VL2500's all controlled by a WholeHog 3. The LC Panels were controlled by a WholeHog 2 linked to a Catalyst operated by Robin Haddow.
Contact
Contact your local Martin distributor or PR Coordinator Larry Beck at Martin Professional Telephone: +1 719 686 0793
E-mail:larry.beck@martin.dk
Web Site:www.martin.com