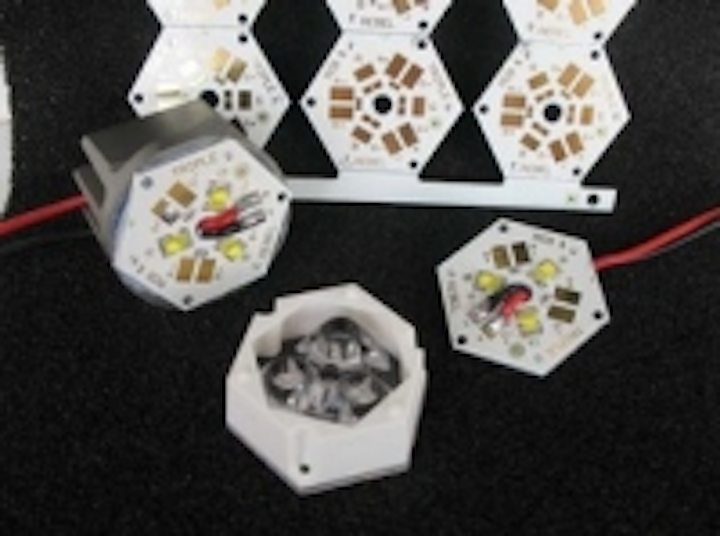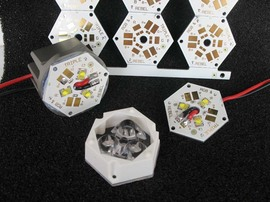 Date Announced: 05 Nov 2007
Fa. GK Technik announces today, that they have designed a new MCPCB,
which fits to the new lens-holder "181" from Polymer Optics.
"Polymer Optics is a company with foresight, as Fa. GK Technik has", states Mr. Juergen Krueger, co-founder of Fa. GK Technik. "For us, it was always clear as sure as eggs is eggs, that the REBEL-LED will belong to the leading edge LEDs in the market."
The new MCPCB is a combined design, delivered as a real RGB, and can be configured to a triple by setting two solder-dots onto the MCPCB.
It has a shape of the traditional stars, and a diameter of 30mm.
The panel contains 9 pieces of this MCPCB, and the data for automatic populating, and for the solder-stancel as well, are available free of charge. This new MCPCB is available from stock.
Contact Fa. GK Technik today for your quotation!
Also, do not hasitate to ask for your own OEM-design.
About Fa. GK Technik:
Established 2004, Fa. GK Technik has made a great progress in designing MCPCBs. The designs are all made precisely in Germany, while the production is made very accurate and cost-effective in China.
All used materials are RoHS-conform and UL-listed. Fa. GK Technik produces every week thousands of MCPCBs and is your reliable partner for your designs.
Contact
Fa. GK Technik Hirblinger Str. 105 a, D-86156 Augsburg, Germany Tel. +49-(0)821-2183461 Fax. +49-(0)821-2193344
E-mail:jk@elektronik-von-gk.de
Web Site:www.elektronik-von-gk.de