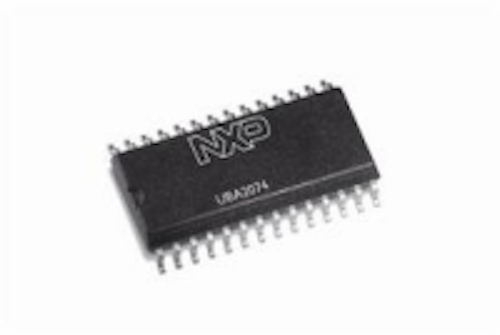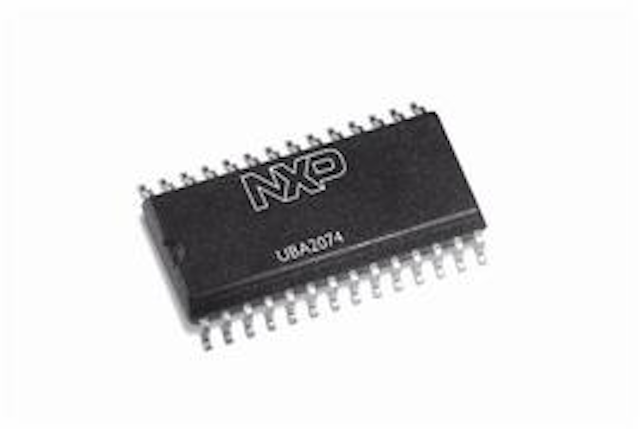 Date Announced: 28 Nov 2007
New IC brings increased energy efficiency
NXP, the independent semiconductor company founded by Philips, today announced the availability of its high-voltage, full bridge fluorescent backlight controller IC the UBA2074 and its low-voltage twin, the UBA2072. Together, they form a new family of full-bridge fluorescent backlight controller ICs, designed specifically to address the trend toward growing display sizes and supporting the increased use of high-supply voltage backlight inverter solutions in LCD-TV applications. In response to customer requests, the company will manufacture DC-AC inverter controller ICs to drive cold-cathode fluorescent lamps, CCFL, or external electrode fluorescent lamps in LCD back lighting applications to support displays of all sizes.
The NXP UBA2074 is the industry's first, true high-voltage full bridge inverter controller IC, able to directly drive up to 550Volt supplied full bridges without the need of external level shifters or gate drive transformer constructions. The ability to drive high voltage full-bridge inverter structures, meets the current and near future requirements of higher power, high and medium supply voltage full-bridge backlight inverter solutions. The IC supports the continuously increasing LCD TV panel sizes and growing backlight power requirements and enables the creation of highly efficient high-power fluorescent backlight inverter designs on LCD-TV integrated power boards. Meanwhile the UBA2072 is designed to operate over a wide low voltage inverter supply, ranging from 9Volt up to 30Volts, matching the requirements of larger LCD monitors LIPS structures and classical 24Volt supplied LCD-TV backlight inverters.
"With the falling cost of LCD televisions, consumers are choosing increasingly larger LCD TVs, which require greater amounts of backlight power. This drives up the power requirements and cost of the LCD-TV power supply" said Kees Schetters, Marketing Director Business, Line Power Management, NXP Semiconductors. "In addition, the LCD-TV market is extremely competitive, requiring an ever present focus on driving system cost down. One of the areas where large cost savings can be made is within the power management domain of an LCD-TV. This is achieved by moving from traditionally panel integrated 24Volt inverter solutions to, set-level LCD-TV Integrated Power Supply Boards containing both the LCD-TV power supply as well as a high voltage supplied backlight inverter. This solution serves two goals as it increases the overall power efficiency of an LCD-TV, and also drives down the total LCD-TV power management cost."
The end application of the UBA2074 is full-bridge High Voltage and Medium Voltage LCD-TV fluorescent lamp, CCFL/EEFL, backlight inverters. The UBA2074A, without hard switching protection, is targeted at 60 Volt full-bridge, Medium Voltage backlight applications, while the UBA2074, with hard switching protection has its focus on 155Volt to 400Volt full-bridge, High Voltage backlight applications. The UBA2072 is very similar to the UBA2074, with the main difference that it has been designed specifically for a low voltage full bridge application limited to 30Volts.
Availability
The NXP UBA2072 and UBA2074 LCD backlight inverter controllers are available immediately. High volume pricing ranges from $ 0.65 per piece for the UBA2072 to $ 0.70 per piece for the UBA2074. Further information on NXP's extensive portfolio of power and power management ICs is available at http://www.nxp.com/power.
About NXP Semiconductors
NXP is a top 10 semiconductor company founded by Philips more than 50 years ago. Headquartered in Europe, the company has 37,000 employees working in more than 20 countries and posted sales of EUR 5 billion in 2006. NXP creates semiconductors, system solutions and software that deliver better sensory experiences in mobile phones, personal media players, TVs, set-top boxes, identification applications, cars and a wide range of other electronic devices. News from NXP is located at www.nxp.com.
Contact
Rebecca Samuel Tel. +1 408 474 8769 rebecca.samuel@nxp.com
E-mail:corinneo@text100.com
Web Site:www.nxp.com