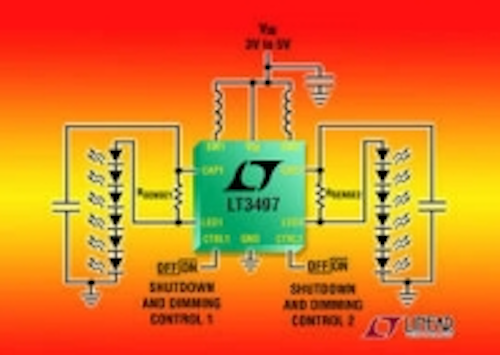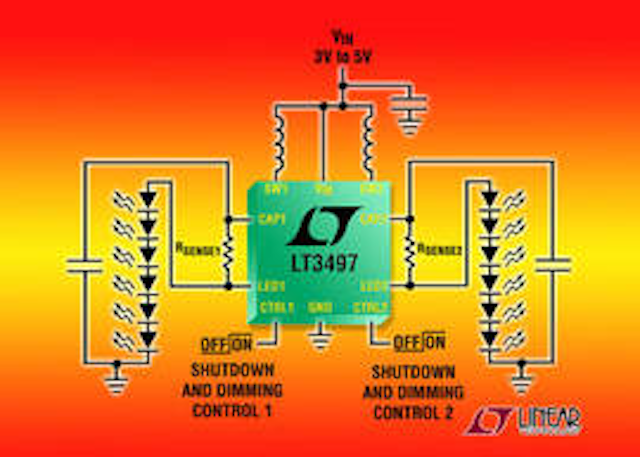 Date Announced: 30 Nov 2007
Linear Technology has announced the LT3497, a dual, full- featured, step-up DC/DC Converter designed to drive up to 12 white LEDs from a Li-Ion input.
Its high efficiency, fixed frequency operation ensures uniform LED brightness, low noise and maximum battery life, and the on-chip schottky diodes eliminate both the added cost and space of external diodes.
True Color PWM™ dimming enables dimming ranges of up to 250:1 without any color shift of the LEDs. The LT3497's two independent converters are capable of driving asymmetric LED strings (up to 6 in series per converter) from an input voltage of 2.5V to 10V.
Its 3mm x 2mm DFN package and tiny externals provide a very compact footprint for space-constrained handheld applications.
The LT3497's 2.3MHz constant switching frequency enables the designer to minimize both solution footprint and switching noise. Its 2.5V to 10V input voltage range enables the device to operate in applications from single or dual cell Li-Ion powered handheld devices as well as 5V fixed inputs. Its high side current sense enables each string of LEDs to be driven by a single wire.
The LT3497 acts as a constant current source, delivering the same current to each white LED, regardless of fluctuations in the LED's forward voltage drop which varies with temperature, manufacturing tolerances and age, ensuring uniform LED brightness. Although on the same chip, the independent step-up converters are capable of driving asymmetric LED strings, with independent dimming and shutdown control of each string.
Additional features include internal soft-start/inrush current limiting, and open LED protection. The combination of the LT3497's high efficiency, versatility, low noise, and extremely small total-solution footprint make it ideal for variety of backlighting applications that require many white LEDs in a tiny form factor.
The LT3497 is available from stock in a 3mm x 2mm DFN-10 package. Pricing starts at $1.70 for 1,000-piece quantities.
Summary of Features of the LT3497:
* Drives up to 12 White LEDs (6 in Series per Converter) from a 3V Supply
* Two Independent Boost Converters Capable of Driving Asymmetric LED Strings
* Independent Dimming and Shutdown Control of the Two LED Strings
* High Side Sense Allows "One Wire Current Source" per Converter
* Internal Schottky Diodes
* Open LED Protection (32V)
* 2.3MHz Switching Frequency
* ±5% Reference Accuracy
* VIN Range: 2.5V to 10V
* Dual Wide 250:1 True Color PWM Dimming
* Requires Only 1µF Output Capacitor per Converter
* Available in a 3mm x 2mm 10-Pin DFN Package
Contact
UK, Ireland, South Africa and Israel: Alastair Boyd, Linear Technology (UK) Limited Tel: +44 (0)1628 477066 E-mail: aboyd@linear.com North America and General Information: Doug Dickinson, Linear Technology Corporation Tel: (408) 432 1900 ext. 2233 E-mail: ddickinson@linear.com
E-mail:uksales@linear.com
Web Site:www.linear.com