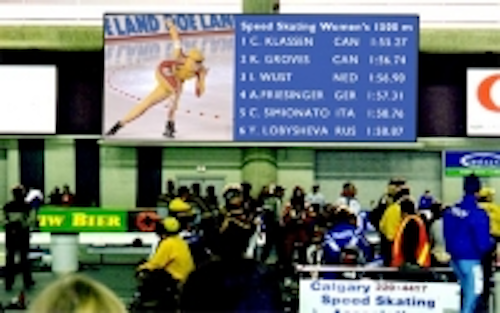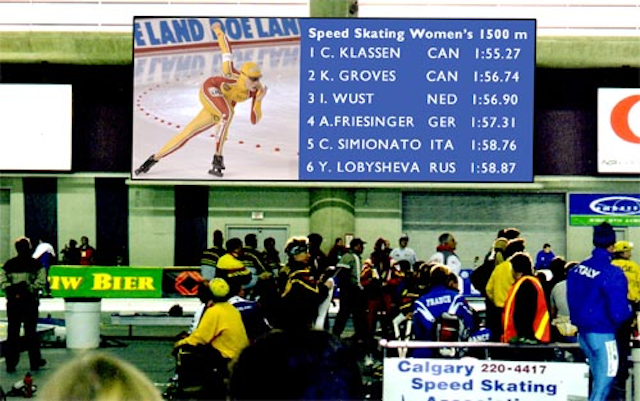 Date Announced: 22 Jan 2007
BROOKINGS, S.D. – Jan. 19, 2007 – The Olympic Oval at the University of Calgary in Calgary, Alberta, Canada, has solidified its status as a world-class facility. That reputation was accentuated with the installation of an integrated video and scoring display, manufactured by Daktronics Inc. (Nasdaq-DAKT) of Brookings, S.D.
"It doesn't matter what we do, everything is new and brilliant now that we have this video display," said Kameron Kiland, Director of Operations for the Faculty of Kinesiology at the University of Calgary. "The clarity is quite clear. It's quite impressive."
The previous scoring system at the Oval required two displays to show live race footage and other data, but the Oval's new ProStar® VideoPlus display integrates the two types of technology into one system. With state-of-the-art ProStar® technology, fans are able to view individual and team statistics, records, scores, times and place while watching the action on the video display.
"In the eyes of spectators, to become a world class facility and host modern events you need to have that live, interactive video," Kiland said. "It brings us from the 1988 vintage Olympic building to a modern building in the eyes of event goers."
The video display measures approximately 3.7 meters (12 feet) high by 9.0 meters (30 feet) wide with pixels on 12 millimeter spacing. The display uses red, green and blue (RGB) center-to-center light emitting diode (LED) technology to present images and information with wide-angle visibility and incredible brightness. ProStar® technology has the capability to display live video and offers a long lifetime with minimal maintenance and low power consumption, providing value and excitement for years to come.
"Our previous system was a Daktronics display, and their great customer service convinced us to purchase another Daktronics system," Kiland said. "They followed the schedule and everything was installed when they said it would be."
The video and scoring display system is supported by the powerful and versatile Venus® controller, which allows it to combine the video and scoring into an integrated, viewer-friendly format.
"With its rich Olympic history, the Olympic Oval is a great place to watch ice-related sports. The ProStar® display adds to the experience by allowing the University of Calgary to supplement the race or game with stats and rankings," said Ryan Kuzman, Daktronics Sales Representative.
About the Olympic Oval
The Olympic Oval was the first covered speed skating oval in North America. Built for the 1988 Calgary Olympic Winter Games, the Olympic Oval continues to be recognized as one of the world's premier competition and training venues. The Olympic Oval annually hosts World Cups and other international competitions and is home to University of Calgary varsity teams, National Development Training Center for Cycling, a national training centre for Long and Short Track Speed Skating, as well as the Calgary Oval X-Treme women's hockey team. It is also home to the fastest ice in the world, holding 23 of 36 long track speed skating world records.
Now a multi-sport facility, the Olympic Oval is the training centre for elite athletes from across Canada and around the world. It currently offers high performance training programs in long and short track speed skating, cycling and female hockey. In addition, the Olympic Oval is also a recreational facility, serving University of Calgary staff and students as well as the Calgary community.
About Daktronics
Daktronics has manufactured more than 87,000 scoring/display systems for more than 52,000 customers, including the original system at the Olympic Oval for the 1988 Olympic Winter Games.
Daktronics began manufacturing large screen, full-color, LED video displays in 1997. Since then, over 3,000 ProStar® and ProAd® displays have been sold and installed in sporting and commercial facilities around the world. Since 2001, independent market research conducted by iSuppli Corp. lists Daktronics as the world's leading provider of large screen LED video displays.
Daktronics has strong leadership positions in, and is one of the world's largest suppliers of, electronic scoreboards, computer-programmable displays, and large screen video displays and control systems. The company excels in the control of large display systems, including those that require integration of multiple complex displays showing real-time information, graphics, animation and video. Daktronics designs, manufactures, markets and services display systems for customers around the world, in sport, business and transportation applications.
Contact
Tel. (605) 697-4300 or toll-free (800) 325-8766
E-mail:sales@daktronics.com
Web Site:http://www.daktronics.com