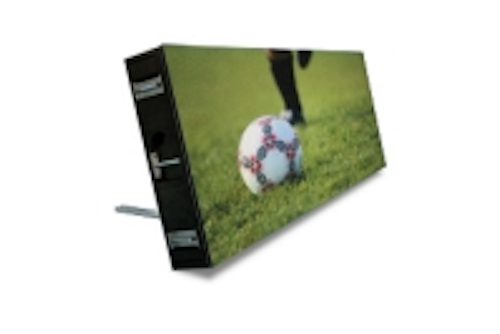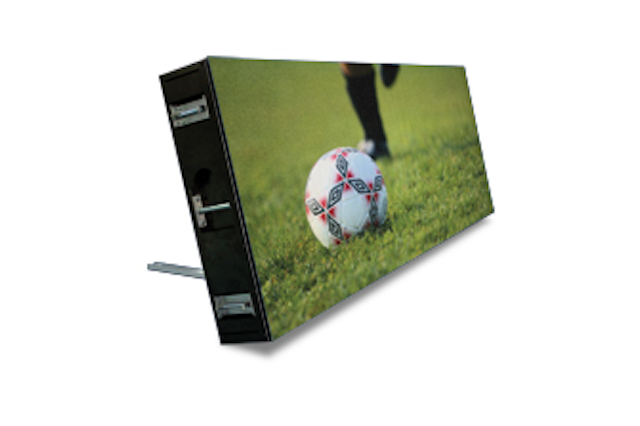 Date Announced: 04 Jan 2007
-- Unique Operational and Safety Features Incorporated into Pitch Perimeter Display System
BROOKINGS, S.D. – Daktronics (Nasdaq-DAKT) introduced ProPitch® technology, the latest addition to the Company's line of full-color, light emitting diode (LED) display products, at the international SoccerEx exhibition and tradeshow held recently in Dubai.
Daktronics has a long history of designing and manufacturing full-color, video capable display systems using the latest in LED technology. The ProPitch® system, designed for soccer/football perimeter applications, incorporates excellent brightness and visibility for fans and television cameras, quick and easy assembly, unique safety features, and configuration flexibility.
According to John Mette, Manager of Daktronics operations in Europe, "Attendees at SoccerEx were excited about the new proPitch technology. They were very impressed with the brightness, contrast and smooth image processing our control system provides. The flexibility of the technology, with the ability to be configured as both a pitch perimeter display, as well as a traditional video board, makes it even more attractive. That flexibility allows for maximum return on investment."
ProPitch® technology is available in a variety of pixel configurations, from 12.5 millimeter (.49") center-to-center line spacing and greater. Each is designed as a sectional display system that is easy to assemble and disassemble. Lightweight sections can be locked together in seconds and require only a single connection for signal and a single connection for power. Customers can purchase a single section or multiple sections to extend around the entire perimeter of the pitch. The technology also offers the ability to stack sections vertically into a more traditional video screen aspect ratio.
ProPitch® technology was designed for fans and sponsors. It provides great image reproduction for television broadcasts and wide angle viewing for fans. Each of the ProPitch® options are calibrated for excellent daylight visibility at 6,000 nits (adjustable for other light levels) with a contrast ratio of 1000:1. A unique, proprietary display face helps diffuse ambient light. Synchronized image refresh and 50 or 60 frames per second image reproduction rates ensure excellent reproduction on televised broadcasts. As camera positions may vary, ProPitch® technology features adjustable rear support stands to tilt the display to the ideal angle for maximum visibility.
Because player and spectator safety is paramount, Daktronics has designed several safety features into the technology. On certain models, specially designed rubberized molding is incorporated into the front of the display sections, eliminating protruding elements, reducing the risk of injury to players and providing additional protection for the LEDs.
ProPitch® technology has hinged sections that open freely with minimal force, and can be flipped over on its face if necessary, preventing the displays from acting as a fixed obstacle. Daktronics also offers pneumatic drop-down systems that lower each section into a trench.
The integrated latching system of ProPitch® technology allows for quick and easy setup. Latches lock display sections together with the simple turn of a wrench. Removable alignment pins are also incorporated into the design and located on both the sides and top (for building a display with a more traditional video aspect ratio).
The popular Daktronics Venus® controller operates the system in either perimeter or traditional video screen mode. The powerful V-Link® video processor enables the display of live video on ProPitch® technology. The control system provides immediate adjustments for brightness, gamma, and color temperature. More about ProPitch® technology can be found on-line at http://www.daktronics.com/video_prod/dak_video_products.cfm?section=Large_Sports_Venues&category=propitchLED
About Daktronics
Daktronics began manufacturing large screen, full-color LED displays in 1997. Since then, more than 2,900 displays using ProStar® and ProAd® technology have been sold and installed in sports, entertainment and commercial applications worldwide. Since 2001, independent market research from iSuppli Corp., has listed Daktronics as the world's leading supplier of large screen LED video displays.
Daktronics has strong leadership positions in, and is one of the world's largest suppliers of, electronic scoreboards, computer-programmable displays, and large screen video displays and control systems. The company excels in the control of large display systems, including those that require integration of multiple complex displays showing real-time information, graphics, animation and video. Daktronics designs, manufactures, markets and services display systems for customers around the world, in sport, business and transportation applications.
Contact
Tel (605) 697-4300 Toll-free (800) 325-8766
E-mail:sales@daktronics.com
Web Site:http://www.daktronics.com/video_prod/dak_video_products.cfm?section=Large_Sports_Venues&category=propitchLED