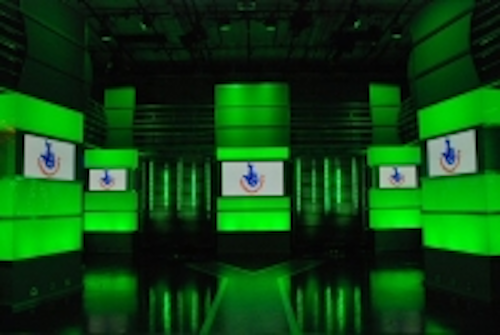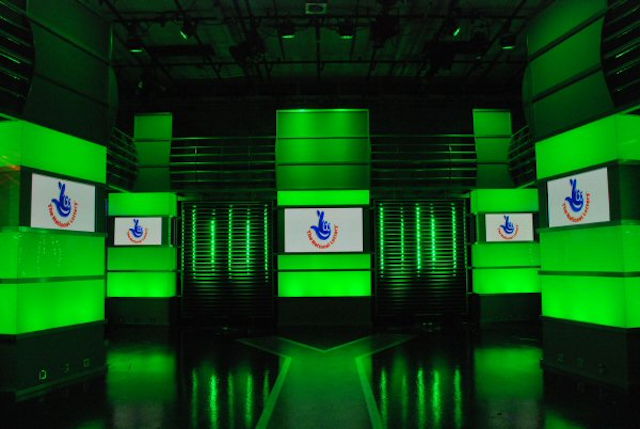 Date Announced: 19 Jan 2007
Over 70 i-Pix Satellite LED fixtures are installed into the set at the National Lottery Draw studios at Chalfont St Giles, Buckinghamshire, for the BBC's twice-weekly event. They were specified by lighting designer Tom Kinane.
The Lottery represents Kinane's first use of Satellites – the installation has been active since July, shortly after the fixture was first launched by the new company i-Pix. They'd been recommended by several colleagues including moving light programmer and operator Svend Pedersen, who is also an LD and worked closely with Kinane to set up the Lottery show.
The Lottery set is designed by Simon Kemble, and Kinane needed to light this very evenly with a colour changing wash fixture to produce razzamatazz colour and movement for the show.
Satellites were chosen for several reasons, a major one being their robust build quality and low maintenance requirements. This was an essential consideration with the installation in residence for 3 years! Pedersen elucidates that had they been using a conventional lighting rig to do the job, a routine maintenance visit would have been necessary every 2 weeks to replace all the gels! The zero maintenance factor that comes with using Satellites has completely dispensed with this, making massive labour savings across the whole project.
Then there was the fact that they are small, aesthetically pleasing and unobtrusive, so units could be neatly tucked into all sorts of corners, nooks and crannies around the set, and easily hidden from being in camera shot.
Low power consumption was another huge advantage. That all 70 of them can run off a single 13 Amp supply was a real bonus at Chalfont, as power in the small studio is extremely limited.
The cost-effectiveness was also right "on the button" for the budget says Pedersen, adding, "What you get for your money in terms of light output is just incredible".
In addition to all those valid practical reasons, as soon as Kinane had seen the Satellites in action, he knew that creatively they were "The perfect fixture for the job".
Over and above all those considerations, Kinane and Pedersen wanted to set up a scenario that serviced the show's creative lighting requirements and could be run by general lighting crew – i.e. one LX and one board operator each week from a pool of regular operators - as opposed to needing specialists like moving light techs.
Endemol purchased the lights and commissioned the set, and Chalfont Studios invested in the Hog 5090 console to run the show.
The Satellites are back-lighting the set with 3 – 4 units per panel of set. In the main show the ball machines are centre stage, and each game has its own colour sequence – produce by the set shifting colour. The main Lotto draw is red, the Dream Machine ball is green, the Thunderball is magenta ….. and so on.
"A very simple idea that needed to be achieved very effectively to have maximum impact on the small screen" says Kinane
Simon Kemble has also been suitably impressed with the lights and has seen the possibilities of what they can bring to scenic applications. In fact, the response and feedback from set designers generally has been exceptionally positive.
Since the Lottery installation, both Kinane and Pedersen have used i-Pix Satellites at every possible opportunity, including on "Ant & Dec's Saturday Night Takeaway" and Philip Schofield's "Night Before Christmas" festive TV special, both for ITV, and Kinane has used them on "Duets Impossible" for the BBC. Upcoming shows that will see them in action again include the Charlotte Church and Dame Edna Everidge shows.
Contact
i-Pix: +44 (0)161 443 4140
E-mail:louise@loosplat.com