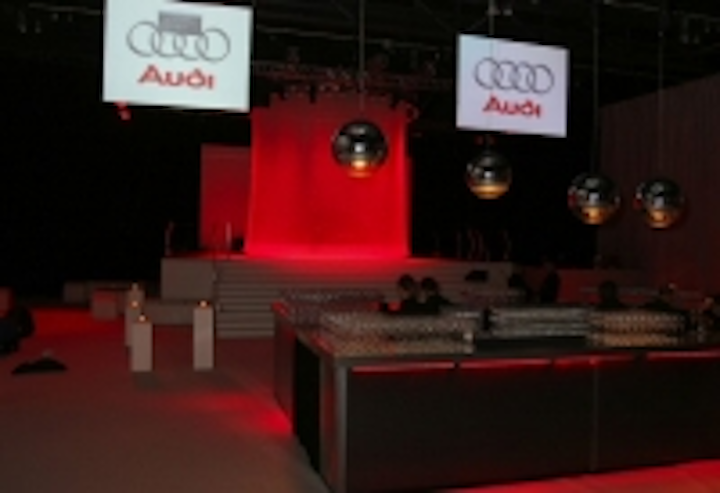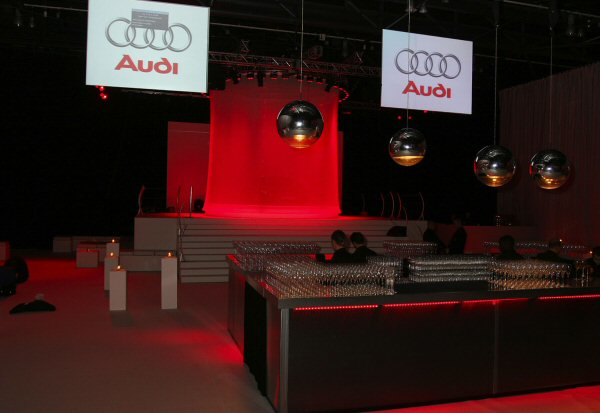 Date Announced: 25 Jan 2007
Forty of the new i-Pix Satellite LED fixtures were used by lighting designer Nick Gray for shows in Manchester (G-MEX) and London (The East Winter Gardens at Canary Wharf) launching the Audi R8 super-coupe performance car.
Gray and his company Renegade Productions were asked to design and supply lighting for the show by event producers GSP.
He specified the i-Pix Satellites to light a shroud surrounding the car. The gauze was rigged onto a circular truss above a raised rotating platform in the middle of the room. Illuminating the gauze in red, the Satellites effectively hid the R8 from view until it was time for the theatrical style reveal.
The lights were attached to the same circular truss as the gauze. The latter was on the inner cord, and the Satellites around the outer cord – down-lighting the cloth. "A simple but effective theatrical trick" explains Gray. The front of the gauze was projected onto by moving lights with Audi gobos.
Guests entered and settled in with their champagne and refreshments, and then at the start of the reveal sequence, the Satellites commenced in on a slow chase – still in red. This accelerated in time to a prodigy track, and then a bunch of strobes kicked in and lights were racing all around the room, building to a frantic crescendo culminating in the gauze being hoisted up from the bottom. All the Satellites were extinguished and the streamlined body of the car revealed, bathed in spotlights.
It was the first time Gray had used i-Pix Satellites, which were supplied, along with the other lighting equipment by west London based Entec.
"They were absolutely perfect for the job" he enthuses, "Together with the different filter options for the front, they are a hugely dynamic and versatile fixture".
The i-Pix Satellite comes with a selection of robust snap-on beam shaping accessories that fit neatly on the front of the unit, complete with holographic film that reflects the beam to the desired level. There's three standard beam angles, with the option to become as adventurous as you like with them as the design develops!
Gray used the narrowest one on this occasion as they needed a tight beam with maximum intensity. He adds "I was amazed at their brightness, and they were most definitely the best fixture for the job".
As with all the other lights on this show, they were operated by Andy Emmerson running a WholeHog Ii console and a Wing.
Since then Gray has used Satellites on several other designs including a Samsonite product launch, when they internally lit some chandeliers, when the Stand-Alone setting came in very handy. When activated, the LCD display allows a 'quick store' function which takes a snapshot of the colour being used, and can store up to 20 memories for easy recalled when run in manual mode.
(Photo courtesy of GSP.)
Contact
i-Pix: +44 (0)161 443 4140
E-mail:louise@loosplat.com