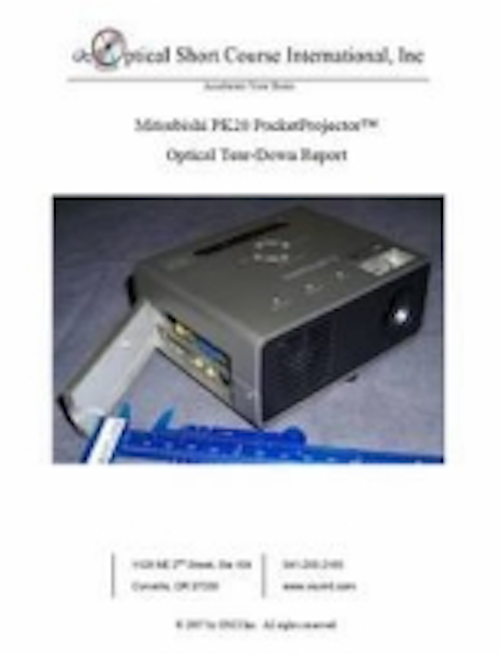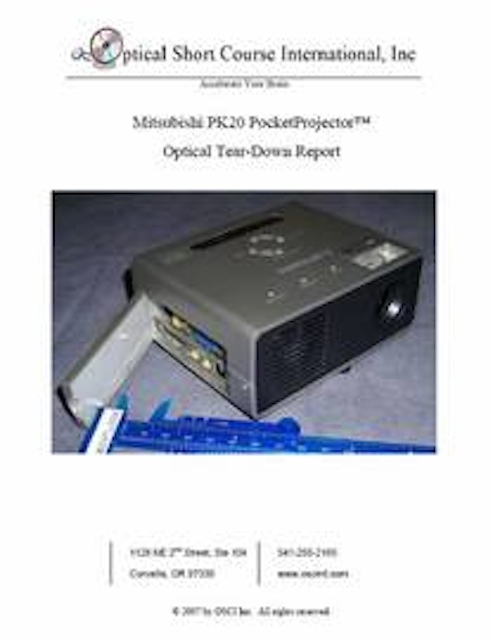 Date Announced: 10 Aug 2007
Corvallis, OR — An exclusive optical reverse engineering analysis report is now available from Optical Short Course International, Inc. (OSCI) on the second generation LED PocketProjector™ from Mitsubishi—the PK20.
In the Mitsubishi PK20 PocketProjector™ Optical Tear-Down Report, OSCI meticulously documents the test and analysis of the light engine assembly and optical components contained in this low-cost, high-quality popular little dynamo.
Designed to provide a deeper understand of the optics assembly design and illumination system layout, the Mitsubishi PK20 PocketProjector™ Optical Tear-Down Report is packed with over 100 high-resolution optical assembly graphics and illustration.
Paired with descriptive text, these detailed images include items such as: the light engine, high-brightness (HB) LEDs, heat sinks, thermodynamics and heat transfer, cooling system, illumination system and alignment, DMD modulators, the projection lens, and manufacturing specifications. Many of these images provide close-up views of individual optical components, presenting a truly comprehensive visual report of what's inside the box.
As an industry leader in LED light engine design and analysis and reverse engineering, OSCI offers another substantial optical assembly tear-down report. Geared for those in the supply chain, R&D, product design, field service, and others; any company in the highly competitive LED-based digital projector race can immediately benefit from the knowledge they will gain from this report and use it to increase their marketing standing.
For additional information on the Mitsubishi PK20 PocketProjector™ Optical Tear-Down Report, other optical tear-down reports, or LED light engine assembly design and analysis; visit us at www.oscintl.com or call 541-255-2165.
About OSCI Inc.
Leading the industry in LED-based design and analysis, reverse engineering, and customized in-house training courses, OSCI Inc. continually exceeds optical engineering training and consulting expectations worldwide. Start-up companies, medium and large companies including Fortune 500, 100, and 50 companies have benefited from partnering with us.
With over 20 years of experience, we understand the challenges each company faces in gaining and maintaining a foothold in the booming LED-based industry. We work closely with our partners to ensure the best strategies and innovations are used in developing cutting edge technology to implement their optical engineering dreams so they can compete in the world market.
Our areas of brilliance include:
• High Brightness (HB) LED Optical System Design, Analysis, and Testing
• Illumination Design Services
• Optical Instrument Development, Analysis, and Testing
• Reverse Engineering—Optical Assembly Tear-downs
• Customized In-house Optical Training Courses
For more information visit www.oscintl.com or call 541-255-2165
Contact
Traci Pate, Office Manager Optical Short Course International, Inc., 1128 NE 2nd Street, Ste 104 Corvallis, OR 97330 541-207-8101 cell
E-mail:traci@oscintl.com
Web Site:www.oscintl.com