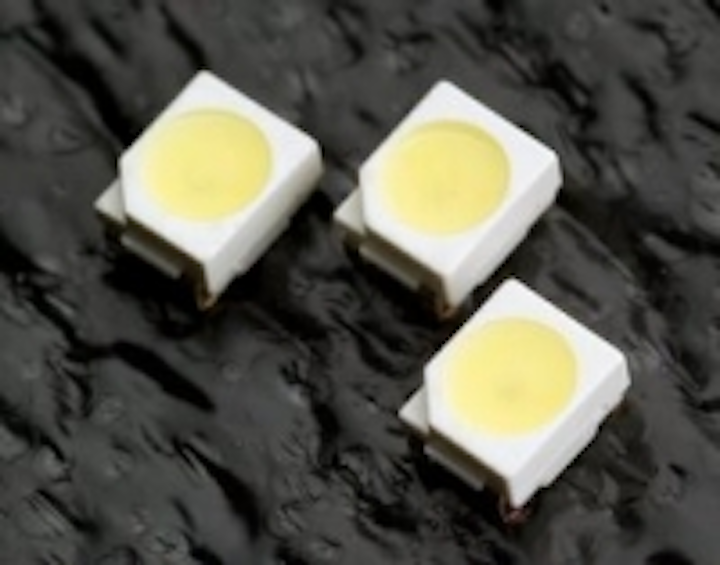 Date Announced: 17 Aug 2007
Latham, New York: Marktech Optoelectronics today announced new compact high-efficiency white light emitting diodes from Toshiba that provides twice the brightness of previous generation devices and are among the brightest white LEDs in the industry available in this form factor.
Developed by Toshiba Corp., the new TLWK1100B LED delivers luminous intensity levels of up to 2000mcd from a drive current of only 20mA. The robust design makes it suitable for automotive lighting designs, LCD backlighting, panel indicators, and the replacement of incandescent bulbs in certain lighting applications.
The TLWK1100B is available in a standard PLCC2 surface-mount package that measures 3.2mm x 2.9mm x 1.9mm. The LED's high brightness white light output is a result of a combination of a blue InGaN (indium gallium nitride) LED and yellow-emitting phosphor.
The device offers efficient operation with maximum power dissipation of just 114mW and typical forward voltage (VF) of 3.2V. Operating temperature ranges from -40º C to 100º C.
Designed for use with automated lead-free (Pb-free) production lines, the new surface mount device is compatible with reflow soldering processes at temperatures up to 260°C.
Features
Standard PLCC2 Surface Mount Package
120º Viewing Angle
Incorporates InGaN/Phosphor Technology
High Operating Temperature Range: -40º ~ +100º C
Typical Luminosity of 1500mcd @ 20mA
Pricing and Availability
Pricing for the TLWK1100B is $.46 in 10K lots with free samples currently available.
Contact
Carrah Daley, Marketing Manager Latham, New York Phone: 518.956.2980 Fax: 518.785.4725
E-mail:info@marktechopto.com
Web Site:www.marktechopto.com