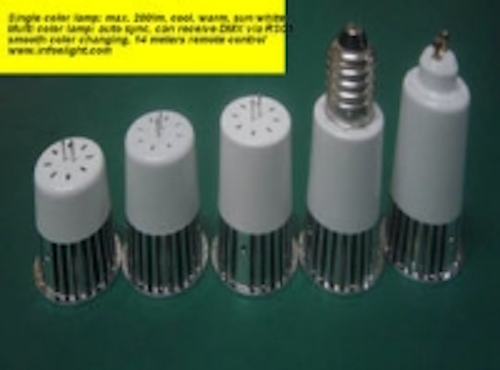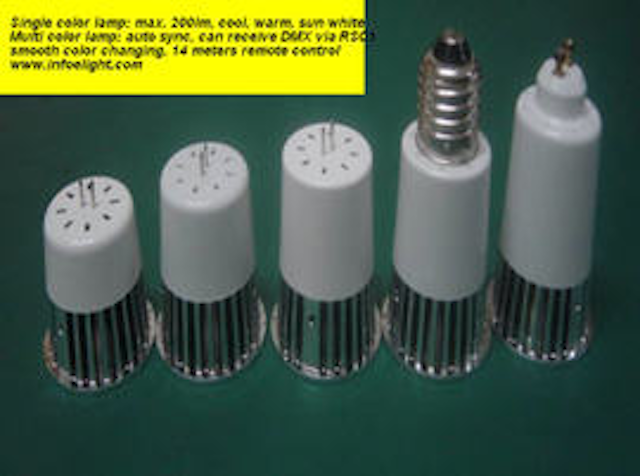 Date Announced: 10 Aug 2007
6 steps and/or stepless dimmable 5W/10W SSL-based LED lamp for incandescent replacements is now availble. Please see www.infoelight.com. With line on/off switch or IrDA (infrared wireless control), 5W dimmable LED lamp luminace can be adjustable from 100%, 200lm/5W (which is measured per DOE energystar definition), to 0%, 6 steps or steppless dimming control.
With 2 inches form factor of Halogen lamp, 200lm/5W LED lamp can directly replace GE 25W Halogen lamp(made in USA) or other brand 35W Halogen lamp. Best suitable to be used in Hotel bedroom, coffee shop, etc.
From basic building block-LEM(Led module) to 30,000 lamps lighting network control system, all are in-house designed and produced. Our product portfolio includes:
• ①5W color changeable LED lamp(MR16/E27 with IrDA remote controlling and programmablility);
• ②90W lighting plate with auto dimmablility;
• ③3W color changeable flashlight;
• ④5W/10W dimmable LED lamp(MR16,E27);
• ⑤DMX compatible RS485 controller for LED;
• ⑥master-slave LED system;
• ⑦Auto synchronized color LED system;
• ⑧LED programming wizard
With the advanced and proprietary die bonding and heat sink sub-mount, our LEM has lower heat resistance and higher temperature endurable, makes the lamp and light bar more rugged and durable. With the cost effective chip, our 2 inches lamp which is in mass production, achieves 200lm/5W per DOE efficacy definition, to replace GE(USA) 25W or other brand 35W halogen lamp. Same form factor, new prototype achieves 250lm/5W, is expected to put into production on Nov. 2007. 10W/3 inches E27 LED lamp is also available now.
Most of the consumers are familiar with the applications of 5W Multi-color LED lamp and single color LED lamp which have been best used for landscape lighting (changing color), and indoors application, for example, cellar lighting, painting/antique lighting (which must avoid heat and UV damage), pool and spa lighting, club/beer house lighting. For our MCL(multicolor lamp), it has built-in programmable function to make its color changeable. It has been built-in 15 color-modes (including red, orange, yellow, green, blue, purple, pink, etc.) and 4 color-changing modes(Flash, Strobe, Fade, Smooth).
With the dimmable and remote control, many hotels start to use our SCL products in bedroom for mood lighting, bathroom lighting and lobby downlighting
30-90W lighting plate is becoming popular recently in the applications of gas station under-the-over-hang downlighting, gym/dorm downlighting. With the RF remote control or patented line control, it is perfectly used in road lamp pole to realize the advantages of LED-lifetime and power controllability.
There are 4 ways to control the color of our MCL lamp:
1. Toggle switch on/off power can change the color mode of the lamp.
2. Remote control, our patent-pending remote controller uses IrDA with extra signal-collecting design to fulfill longer distance, wider angle, and lower cost remote control.
3. Computer control, the lamps are built in RS485 (noise resistant and up to 2KM transmission) which can be color and brightness controlled by computer (using our cost-free user-friendly software, and RSC166:USB/RS485 converter) to control up to 30,000 lamps. Which the 5W hi-brightness and color changing could not only show the feature of the lighted objects but also display the text, logo, and figure. It for sure can attract the viewer's eyeball.
4. RSC165 control. To save the program of computer and replace the computer, our RSC165 can keep up to 16 simple programs.
Either our MCL(multi-color lamp) or SCL(single-color lamp) is featuring:
1.Hi-power and Hi-brightness.
2.Uniform color mixing.
3.Easy to install, almost plug and play.
4.Compatible to Halogan lamp(MR-16) or conventional lamp(E27)
5.Wider power input range. MR16: 5V(4.5Vdc-5.5Vdc), MR16:12V (9Vac-18Vac,or 9Vdc-24Vdc), E27:(100Vac-240Vac)
Contact
Fred Tseng CEO/Managing Director,Infoelight/Anteya Email: fred@anteya.com Tel:+86-13850051024 Fax:+86-592-7890950
E-mail:infoelight@email.com
Web Site:www.infoelight.com