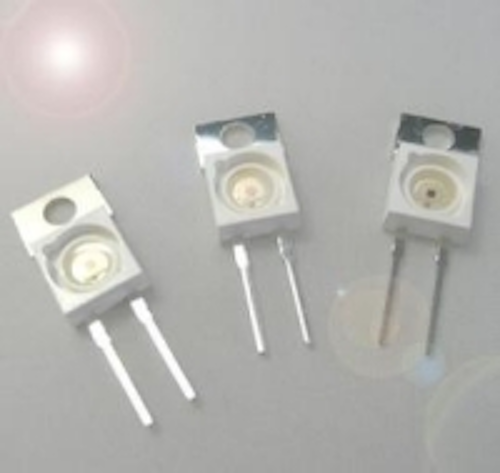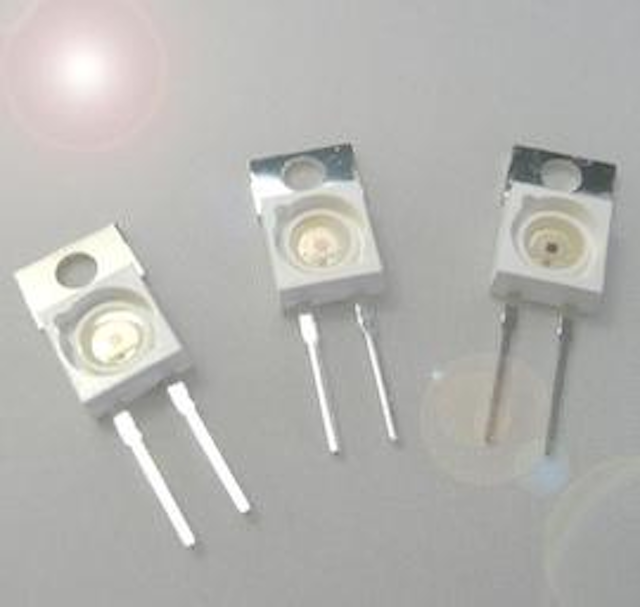 Date Announced: 23 Aug 2007
The Optoelectronic Manufacturing Corporation (OMC) have launched a new range of high flux, 350mA and 700mA high power light emitting diodes in the industry standard TO-220 package which, they say, significantly ease the burden placed on designers to engineer their own thermal management and mounting solutions during the development of high power LED based luminaires.
For decades the TO-220 package has been used for other high power semiconductors such as power transistors and voltage regulators due to its low thermal resistance and practical mounting system, and for these devices a wide array of heatsinks, mounting solutions and accessories are already available off-the-shelf from many component suppliers.
Combining the high power LED semiconductor with an optically efficient reflector on the TO-220 leadframe, this new range allows designers to also apply the aforementioned off-the-shelf thermal management solutions to high power LEDs, rather than having to design and tool custom parts. The TO-220 package is also PCB mountable using standard auto-insertion machinery, reducing setup costs and significantly lowering assembly times.
A number of space-saving lenses have been produced which have radial mounting tabs specifically designed to fit the TO-220 LED and which add less than 3mm to the overall LED height. To facilitate the design and manufacture of linear luminaires, the LEDs are also available pre-populated on thermally conductive strips with on-board driver circuitry allowing 24V DC operation.
OMC have been supplying LED components and solutions to the electronics industry for over twenty years and can be contacted on +44 (0)1209 215424 or by e-mail at omc-sales@omc-uk.com.
Contact
Tel: +44 (0)1209 215424 Fax: +44 (0)1209 215197
E-mail:omc-sales@omc-uk.com
Web Site:www.omc-uk.com