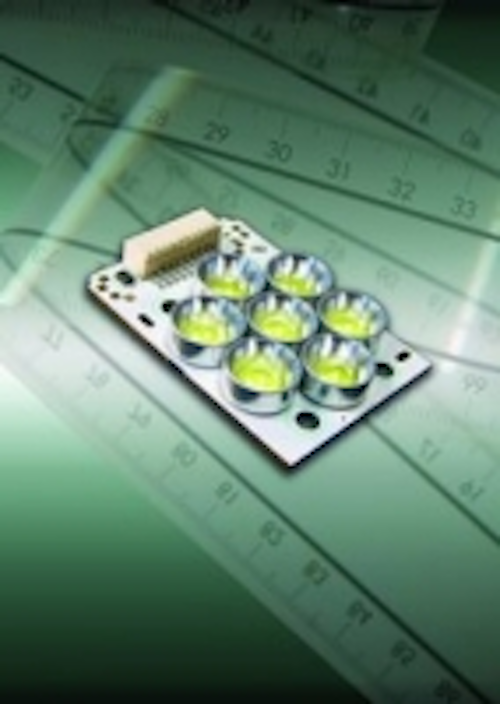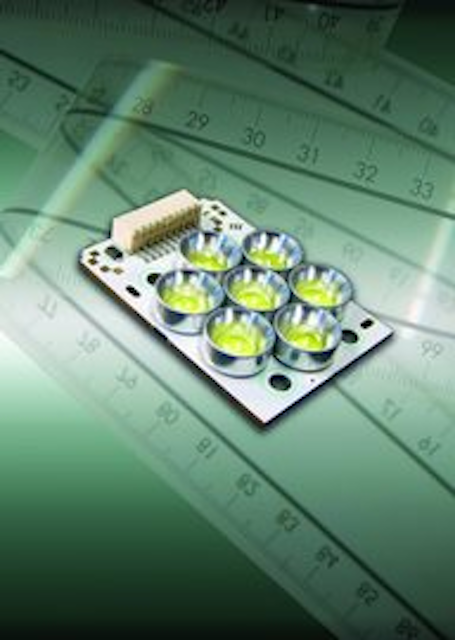 Date Announced: 02 Aug 2007
-- Direct replacement for popular home and office spotlights
Ulverston, UK -- Marl Optosource today launched the world's brightest LED lamps in the UK, offering equivalent outputs to the spotlights widely used in commercial and residential recess down lighting, architectural lighting and lighting for streets and perimeters.
Lamina TitanTurbo(TM) from Marl Optosource are the first LED lights to match a 100W tungsten lamp, and are designed to replace the popular R-20 flood lights. Until now, the brightest commercially-available LED light sources have only been able to rival the light output of a 20-30 watt tungsten accent lamp. TitanTurbo(TM) is immediately available from Marl Optosource to lighting application designers in 2 models – a 3000 degrees K "warm white" version equal in light output to the widely used 75-watt halogen PAR-30 and equally popular 100-watt R-20 flood lights; and a 4700 degrees K "daylight white" (cool) model twice as bright.
Delivering more than 2,000 lumens in daylight white and more than 1,000 lumens in warm white light, TitanTurbo LED light engines offer unsurpassed performance for all general lighting applications. The TitanTurbo Warm White has an enhanced red and orange colour spectrum that makes it ideal as a halogen or incandescent replacement.
They feature a standard 60-degree beam pattern with additional wide, medium and narrow optics available. An integral EZ-Connect(TM) board eliminates the need for soldering and the metal base of each is electrically isolated, allowing wiring in parallel or series on a common heat sink. Both models feature integrated protection from electrostatic discharge (ESD) and superior thermal performance, resulting in long life, high lumen maintenance and outstanding reliability.
All Lamina LED light engines are manufactured by combining high brightness LEDs from industry-leading LED manufacturers with the company's own proprietary packaging technology. This technology is a breakthrough in thermal performance for LED packaging, a key factor in determining LED life and reliability. Unmatched thermal performance coupled with package interconnectivity allows Lamina to densely cluster multiple LEDs to achieve exceptionally high luminous intensity in very small footprints.
About Optosource
Marl Optosource is one of the UK's leading distributors of LED components. Optosource offers privileged access to the product portfolios of the world's leading optoelectronic manufacturers, and can offer a complete one-stop solution to any visible opto electronic component requirement. The new website contains a detailed database on all LED components and accessories including heatsinks, drivers and lenses. Please visit: www.optosource.com.
About Marl
Marl has specialised in the design and manufacture of visible LED indication and illumination components and systems for over 30 years, to customers in the electronic, power generation, defence and telecommunications industries. Its highly trained and experienced team of over 100 design and manufacturing specialists operate from a dedicated technology park in Ulverston, England and stand ready to offer its customers a solution to any requirement. They are able to offer a range of standard products, customised to suit individual projects, or even design a specific component from scratch. Marl is a quality company. It is registered to BS EN ISO 9001:2000 standard and fully RoHS and WEEE compliant.
Contact
Marl International Limited Tel: +44 (0)1229 582430
E-mail:marketing@marl.co.uk
Web Site:www.marl.co.uk