Chroma-Q™ Color Split LED provides twice the possibilities
Aug 16th, 2007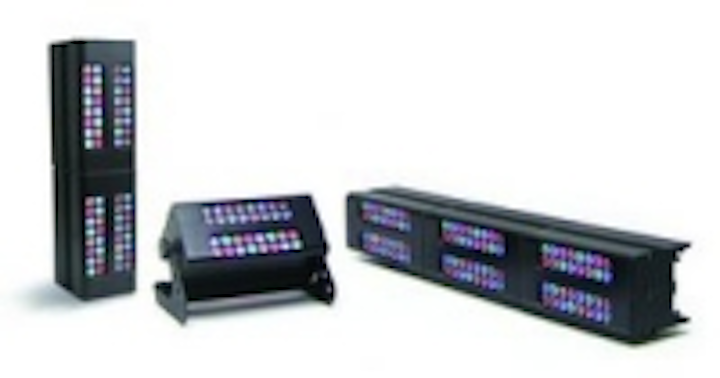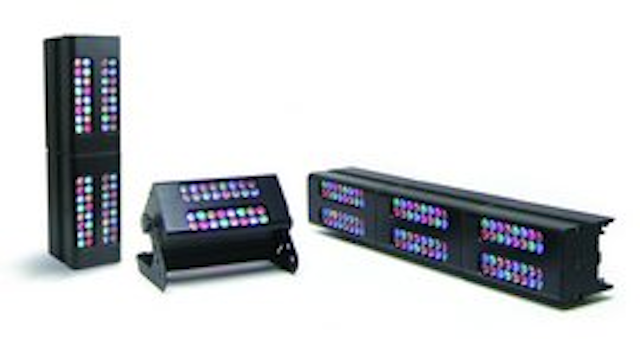 Date Announced: 16 Aug 2007
Following the popularity of Chroma-Q™'s Color Block DB4, the manufacturer has extended its product range with the addition of the new Color Split – a compact, high output LED fixture providing designers with twice the possibilities.
Based around the Color Block's modular, multi-purpose design, the Color Split features larger dual side-by-side RGBA cells. This ingenious configuration provides designers with the flexibility to light with a bold single colour or project a wide range of dramatic split colour effects from a single LED fixture - making it ideal as a truss toner for illuminating the uprights and crossbraces.
The Color Split's advanced split beam technology also provides a very even, soft beam output, similar to a Fresnel fixture, for a smooth colour wash from top to bottom of a surface without hotspots. A wide-angle lens in one cell evenly washes the lower portion of a wall or drape while a narrow lens in the second cell projects the beam higher. The fixture is also very bright and has a smooth, linear dimming curve.
In addition to the standard RGB and latest HSI (Hue, Saturation and Intensity) control modes found in the Color Block, the Color Split also features unique 3 channel RGB (Magic Amber) and 4 channel RGBI (Magic Amber) modes which automatically and seamlessly blend the Amber alongside the RGB LEDs. By adding Amber to the colour-mixing process, a better range of warmer colours can be achieved, resulting in an enhanced colour gamut and therefore superior colour rendition index (up to 82%).
With a 340 lumen output, the Color Split is also extremely bright, making it ideal for even the most demanding lighting environments and applications.
For maximum versatility, the Color Split features a built-in power supply and choice of control modes – the fixture can be operated in a standalone mode featuring 99 selectable effects or connected to DMX and controlled using additional equipment.
As well as making a highly effective wall washer and truss toner, the Color Split's modular, interlocking design and versatile yoke mounting makes it ideal for providing a wide variety of other effects lighting applications as well in the touring, rental, TV, theatre, tradeshow and indoor architectural sectors.
Units can be floor, truss or wall mounted and used individually or easily connected together to provide battens, blinders, footlights, side fills, cyclorama floods, discreet set piece lighting and interior architectural lighting applications – all from just a single fixture.
A.C. Lighting is the exclusive worldwide distributor for the Chroma-Q™ Color Split.
Contact
International Sales Enquiries: Tel +44 (0)1494 446000 North American Sales Enquiries: Tel +1 (416) 255 9494 email northamerica@aclighting.com
E-mail:sales@aclighting.com
Web Site:www.aclighting.com/colorsplit