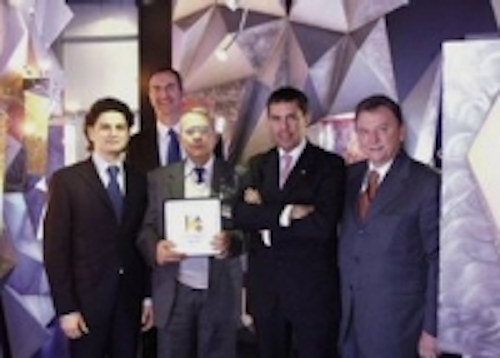 Date Announced: 01 Mar 2007
On February 6, the opening day of the LivinLuce trade fair in Milan, the Coinlight-Ostar LED spotlight from OSRAM was honoured as one of the "Top Selection" for the Innovation & Design Awards 2007. In the Innovation category, this first round high-flux LED spotlight impressed the judges with its excellent temperature management and plug & play simplicity.
On February 6, 2007 Roberto Barbieri, Head of OSRAM Italy, received the award for this unique innovative product from OSRAM at the official award ceremony and grand opening of the LivinLuce trade fair in Milan. Together with the Decopin line voltage halogen lamp, the Coinlight-Ostar was one of the 34 finalists in the Innovation category chosen back in December 2006 from among the many products submitted by the exhibitors. Of these 34, nine were then listed in the "Top Selection" and presented with awards.
Equipped with just one high-flux LED, the dimmable LED spotlight produces as much light as a 20 W halogen lamp. It has a beam angle of 38 degrees and a rating of 10 W. The Coinlight-Ostar is supplied ready for connection, so it is suitable for plug & play installation. It is highly versatile. It can be used for illuminating surfaces or for spotlighting objects; it can provide accent lighting or background lighting. Thin-film technology ensures that virtually all the light produced by the LED is used. The integrated heat sink gives the casing of the spotlight excellent temperature management properties. This and the option of mounting the unit on an additional heat sink, such as a luminaire housing, leads to a long product life. This high-flux LED spotlight is unusually small. Its package is just 29 millimeters high and its diameter is only 51 millimeters. It is therefore ideal for installing in floors, ceilings or walls. Its internal M3 thread makes installation very easy.
Contact
info@osram-os.com
E-mail:info@osram-os.com
Web Site:www.osram.com