Semiconductor EcoLight, Acriche runs direct from AC supplies without additional circuits
Mar 6th, 2007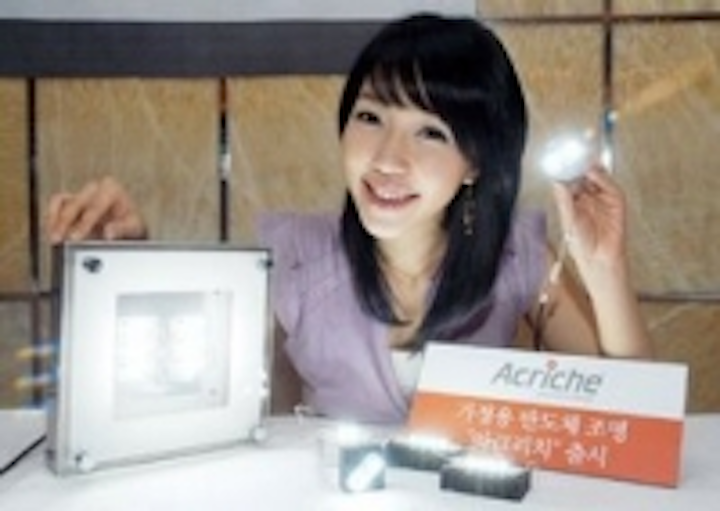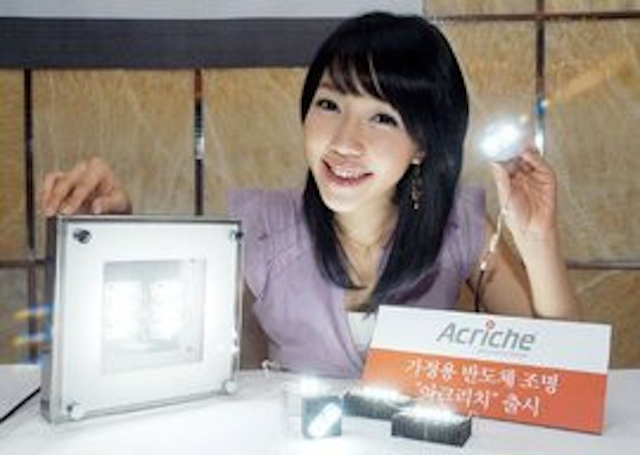 Date Announced: 06 Mar 2007
Seoul, Korea, February 28, 2007: world leading LED manufacturer, Seoul Semiconductor (SSC), announced last November that it had succeeded in mass-producing its semiconductor light source, Acriche, which can be directly connected to 110 V or 220 V AC outlets, eliminating the need for a additional circuits such as an AC-DC converter.
Acriche has come into notice as a next generation light source, which will substitute for general lighting. It is an environment-friendly semiconductor light source which is better than incandescent and halogen lamps in terms of power efficiency, and outpaces fluorescent lamps in terms of lifetime, power consumption and convenience.
As conventional LED products can only work with DC power, it was previously impossible for consumers to use LED products with AC outlets without using a converter. However, Seoul Semiconductor succeeded in developing related technology January in 2005 as well as mass- producing Acriche running direct from AC supplies. The Acriche mass-producing technology related patents had been registered in the leading countries in the use of IT such as Japan and Korea.
This year, the innovative light, Acriche will start to have come into wide use. Also, its penetration into the general illumination market is expected to be hastened. Since last November's announcement, SSC is having a rush of inquiries about Acriche, the economical and environment-friendly semiconductor light. SSC is now reinforcing production facilities to meet such an upsurge in consumer demand for the product.
SSC expects that sales of Acriche will be a momentum to become one of the world's top three LED providers by 2010, reaching 1.3 billion dollars in sales.
At the end of last year, SSC selected Avnet Electronics Marketing, the largest operating group of Phoenix-based Avnet, Inc., "a Fortune 500 company" and a global distributor of electronic components, and Mouser, the fastest growing catalogue distributor as its official distributors for the north American market. They are distributing Acriche with SSC's other products in the North American market. The distribution agreement with Avnet and Mouser enables SSC to build expanded sales network in the American market to meet a rush of demands for Acriche.
Seoul Semiconductor plans to have several technical seminars in Europe showing the latest products including Acriche and 100 lm power LEDs. For details of the events please contact one of the 6 European offices:
Germany, Nuernberg, Phone +49-911999-5860, Fax: +49-911999-5865
Italy, Milan, Phone +39-039-599-503, Fax +39-039-598-4930
France, Montlhery, Phone +33-1-6980-9229, Fax +33-1-6980-9229
UK, Cumbria, Phone +44-(0)1229-861-104
Russia, Phone +82-2-2106-7347, Fax +82-2-858-5537
East.Europe / Baltic Countries, Phone +82-2-2106-7423, Fax +82-2-858-5537
or in the internet under www.seoulsemicon.com.
Acriche
Conventional lighting such as fluorescent and incandescent or LED products can only work with DC power, and they need additional devices converting to AC. However, the world's only semiconductor light, Acriche can be driven directly from household AC main current and used for existing lighting fixtures. This advanced technology, which has broken the common ideas, was developed by integrating a dozens of light emitting cells onto one die.
Acriche's lifespan is also superior to other existing light products. Acriche lasts 30,000 hours, compared with 1,000 hours for glow lamps, 3,000 hours for halogen lamps and 8,000 hours for fluorescent lamps. Electrical costs are also greatly reduced. Using Acriche will cost consumers 75% less than incandescent lamp and 40% less than general fluorescent lamp.
Seoul Semiconductor Co.,Ltd.
Seoul Semiconductor (SSC) is a world-leading LED lighting solution provider, which is the number one Korean LED supplier and is one of the top 10 companies in the world for high brightness LEDs, according to Strategies Unlimited. SSC has recently been named to the world prestigious business magazines, Forbes and BusinessWeek's lists as one of the most promising Asian companies. Its primary products include Acriche, High-Brightness Power LED s, Side View Top, Top, Chip, Lamp, High Flux LEDs, and more. Applications for these products include general lighting, architectural lighting, street light, task lighting, portable lighting, signage, mobile phones, PDAs, TVs, notebook computers, cars, home appliances, LDMs (LED Dot Matrix), traffic signals, etc. SSC has 927 patents and 83 licenses, after having secured 1,000 patents by the end of 2006. The company has three corporate offices and twelve overseas offices, and 90 outlets around the world. It reported total sales of US$200 million in 2006, and had 1022 employees (R&D 163) including its subsidiaries, Seoul Optodevice(SOC) and Kwang Myung Semiconductor (KMS) as of January 2007.
Contact
Harald Fassel General Manager, Seoul Semiconductor GmbH Am Rathaus 14, 90522 Oberasbach, Germany Tel: +49 (911) 999 58 60 Fax. +49 (911) 999 58 65
E-mail:hfassel@seoul-semicon.de
Web Site:www.seoulsemicon.com