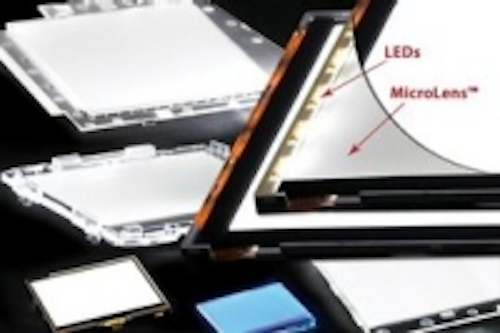 Date Announced: 12 Mar 2007
Modular edge-lighting utilizing patented MicroLens™ light extraction technology from Global Lighting Technologies (GLT) provides the most efficient LED-based edge lighting technology available for today's flat panel displays.
The MicroLens™ concept brings molded-in optics, higher brightness (more output/watt), thinner construction and a scalable design to illumination of LCDs from <1 in to >50 in diagonal, using high-brightness LEDs (HBLEDs) as the light source. GLT's MicroLens™ molded light guides enable outstanding edge-lit backlighting performance and they can reduce the high cost, thickness, and power consumption associated with traditional direct backlighting methods that use an LED array under the display.
MicroLens™ edge lights, according to GLT, provide exceptional output and uniformity and can be used with a wide range of LED light sources, including RGB and white phosphor LEDs.
MicroLens' proprietary "transition area" and "lens arrays" help to spread the light uniformly, reducing the number of LEDs required, while its micro-optical elements precisely extract light for optimal performance.
"Compared to other edge-lighting technologies, MicroLens™ enables more dramatic improvements in color mixing and visual appearance," said David DeAgazio, GLT's Director of Sales Worldwide. "With up to 180,000 unique optical features per square inch (or 2,800 per cm2), MicroLens™ provides superior control over output and uniformity. In addition, it provides scalability to large sizes in an ultra-thin form factor, and offers the obvious cost advantages of a smaller form factor with fewer components."
MicroLens™ light guides can be designed for applications requiring extreme thinness, and are currently being developed in sizes under 0.5 mm thick. GLT provides fully integrated edge-lighting modules with LEDs, films, flex circuit or PCB with connector, and MicroLensTM light guide. With mechanical holding features that can be designed into the backlight, or onto a custom-designed backlight frame, MicroLens™ edge-lighting modules are designed for easy integration into the host application.
Applications include LCD and keypad backlights for mobile phones, MP3 players, camcorders, digital cameras, PDAs, GPS devices, handheld games, portable DVD players, scanners, automotive interior displays, programmable touch screen thermostats, home security system controllers, fish finders, instrumentation and control displays, handheld, notebook and desktop computers, and LCD TVs.
GLT's three Far East production facilities make it possible for the company to offer these edge lighting modules in production quantities with quick delivery; and the extensive design and engineering capabilities at its Brecksville, Ohio, USA headquarters provide full custom design, prototyping, test & measurement, and optical modeling/simulation.
Pricing for GLT's MicroLens™ edge-lighting modules depends upon application, size, and volume, with single-LED edge lights available for well under $1.00 each. For details, contact Global Lighting Technologies with your application.
Contact
Global Lighting Technologies, Inc. 525 Andrews Circle, Brecksville, OH 44141 Tel: 440-922-4584; Toll-Free: 866-922-4584 Fax: 440-922-4585
E-mail:info@glthome.com
Web Site:www.glthome.com