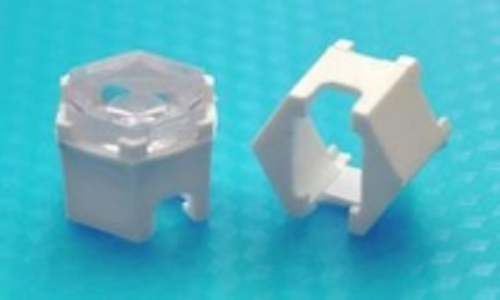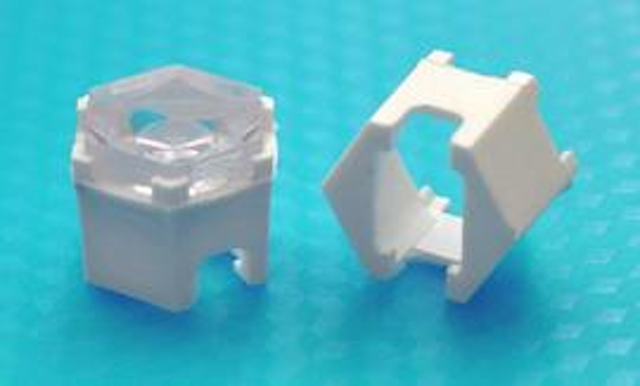 Date Announced: 15 Mar 2007
To assist Cree with the launch of its new High Power XR-E range of LEDs, Polymer Optics Ltd have produced an addition to its range of 12.9 mm hexagonal optics.
This new range of POL optics was specifically designed for the new die construction and emission characteristics of the Cree XR-E LED, to enable the powerful output to be contained and controlled within a very small space envelope, to assist in the construction of compact high flux arrays and miniature single LED luminaires.
The new POL XR-E range of optics has four options giving a 6 deg beam, 25deg beam, 6x25deg linear output and a beam concentrator for fibre optic and lightguide input applications. If required, further custom variants can be designed and manufactured to order at low cost, using POL's modular tooling systems.
This new POL XR-E range compliments the existing range of small single cell and cluster array optics for the Cree XLamp devices.
The Cree XR-E devices can also be used with the recently launched POL Colour Mixer Optic (part no.158), which provides a close packed triple cluster within a 32 mm diameter and provides a well homogenised collimated beam from the three LEDs.
The whole range of POL LED optics is produced from UV stabilised optical grade polycarbonate to withstand the high temperature requirements of high power LED products and out-door applications.
Contact
Chris Ferrari - Commercial Director Polymer Optics Limited 6 Kiln Ride, Wokingham, Berkshire RG40 3JL, England Tel/fax: +44 (0)118 989 3341
E-mail:info@polymer-optics.co.uk
Web Site:www.polymer-optics.co.uk