PicoLED™ - the smallest, thinnest full-color LEDs (SML-P12 series)
Mar 26th, 2007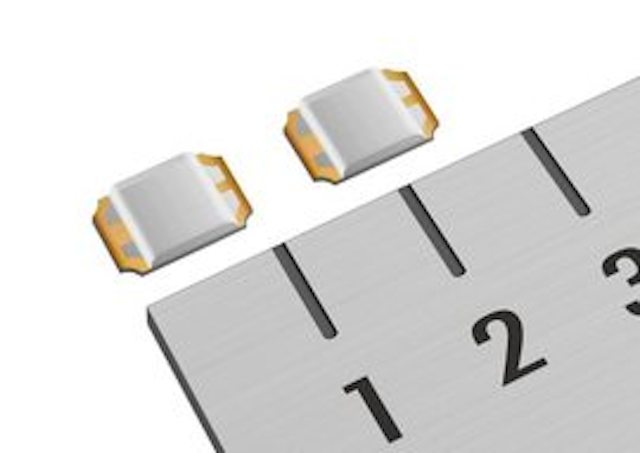 Date Announced: 26 Mar 2007
ROHM Co., Ltd. completed the development of an ultra-compact LED featuring both the smallest volume and area offered. The SML-P12 series (PicoLED™) is ideally suited for devices requiring thin, compact components, such as mobile phone keypads, small dot-matrix units, and compact seven-segment display devices.
Utilizing original high luminosity device and ultra-precise processing technologies has enabled ROHM to develop the SML-P12 series (PicoLED™) of ultra-compact, ultra-thin chip LEDs (t = 0.008 in) in a full range of colors - previously thought to be impossible due to the significant loss in luminosity with traditional LEDs.
The units feature the same level of brightness as conventional chip LEDs, but in a package size 53% smaller in area and with 74% less volume than standard 0603-sized products. This makes them ideal for use in high density applications with narrow spaces, contributing to greater set miniaturization.
The LEDs can also be used to create compact, full-color high-density matrices (0.06 in pitch) that can be used in car audio displays or to produce seven-segment displays with a character height of 0.2 in (an industry first), broadening the possibilities of numerical display applications.
A full line-up is available in a variety of colors: red, orange, yellow, green, blue, and white, and all of the light-emitting elements are of the high-reliability four-element (InGaAlP) or high-luminosity (InGaN) type, ensuring continuous, long-term, reliable operation.
Pricing and availability:
Sample pricing for SML-P12 is $0.80 each and mass production is scheduled to begin April 2007. Lead time is 10-12 weeks ARO.
Applications:
Mobile phone keypads
Small dot-matrix units
Compact seven-segment display devices
SML-P12 PicoLEDTM Features:
Ultra compact (0.04in × 0.02in)
- 53% smaller area and 74% less volume than conventional 1608-sized units
High-luminosity types offered in a range of colors
- red, orange, yellow, green, blue, and white
About ROHM:
ROHM is the industry leader in system LSI, discrete components and module products, utilizing the latest in semiconductor technology. ROHM's proprietary production system, which includes some of the most advanced automation technology, is a major factor in keeping it at the forefront of the electronic component manufacturing industry. In addition to its development of electronic components, ROHM has also developed its own production system so that it can focus on specific aspects of customized product development. ROHM employs highly skilled engineers with expertise in all aspects of design, development and production. This allows ROHM the flexibility to take on a wide range of applications and projects and the capability to serve valuable clients in the automotive, telecommunication and computer sectors as well as consumer OEMs.
Contact
ROHM 858.625.3600 x1032 (phone) 858.625.3640 (fax)
E-mail:marketing76@RohmElectronics.com