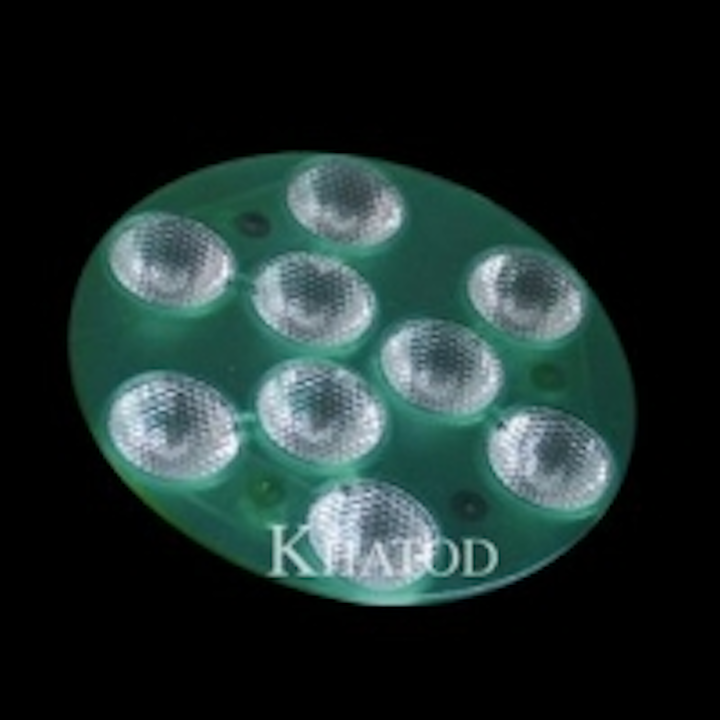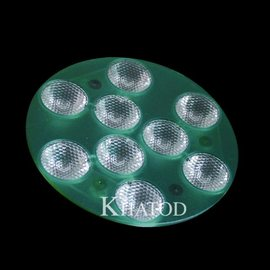 Date Announced: 13 Mar 2007
The continuous improvement in performance and the ever-increasing number of Power LEDs manufacturers has produced a great change in LEDs market. Only a year ago, customers had mostly used one or two types of LEDs.
At present, the LED and lens specifications for final applications have created new avenues for Khatod to meet and exceed the market for these custom applications. Khatod's focus on secondary optics for the major LEDs manufacturers has required great technical and productive efforts to meet the needs of the market.
The creation of a complete lenses series (single, triple MR16, triple MR11,Quad MR16, all in NJC (No Joint Construction) Technology™) for most of the major LEDs manufacturers has caused us to invest in research and greater production capabilities. Our care in developing such a program, as well as customizing lenses, allows customers a choice of products to suit their product specification requirements.
As a consequence of this development, Thetalens enters the world of Khatod Lenses and joins the many custom-products created by customers' specification requests.
The Thetalens, available in narrow, medium and wide beam, complies with AR111. The cover color can be customized to meet the product aesthetic requirements.
This series is manufactured by using our NJC™ Technology, which guarantees a perfect coupling between the lens and the LED making the use of collimator vanish.
Thetalens introduces an innovative coupling system between lens and LED, which eliminates production costs by hot riveting the pegs to the PCB.
Khatod - a step ahead to meet the needs of the industry and market.
About Khatod
Khatod's history starts in 1982: today, our product range is presented over 11 catalogues and covers more than 35,000 articles.
Khatod Optoelectronic is located in Italy - Cinisello Balsamo, Milano - and all the production and business strategies are carried out in its headquarters.
For over 20 years Khatod's designers and engineers have been successful in specifying and developing their lenses, as well as custom products depending on the specific customer's requirements and on the Power LED market diversification and application. NJC Technology™ is a clear example and represents one of the most important steps taken to meet the needs of the industry. By using software for optical simulation and software for thermoplastic injection moulding experimentation, our designers have managed to create and maintain high quality standards.
Khatod is the best choice for high quality standards, professionalism, expertise and ability to meet your most demanding requirements.
About NJC Technology™
NJC Technology: starting from clever research based on optical simulations and experimentations, our designers and engineers have developed our technically unique products, as well as creating the necessary tooling and equipment to manufacture them.
The designers and engineers of Khatod Optics have been the first to develop NJC Technology, which removes the lens housing and guarantees a perfect coupling between the LED and the lens without using a collimator.
Another important aspect is the capability to manufacture custom made products, which are then individually tested before launching them on the market. Khatod Optics is the best choice for individuals looking for high quality standards, professionalism and experience: abilities that Khatod has developed over 25 years.
Contact
KHATOD Optoelectronic S.r.l. Via Monfalcone, 41 20092 Cinisello Balsamo (Milan) Italy Phone: +39.02.66.01.36.95 Fax: +39.02.66.01.35.00 E-Mail: khatod@khatod.com Web Site: www.khatod.com
E-mail:khatod@khatod.com
Web Site:www.khatod.com