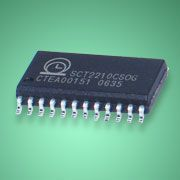 Date Announced: 25 Feb 2010
With only +-1% maximum error between bits & all of the bits are on and +-1.5% maximum error between chips in the system, Starchips (www.starchips.com.tw) SCT2027, LED driver current sinks 16 LED clusters with serial-in parallel-out for data latch up format, is designed to fulfill the fastest response requirement from customers.
Besides, it is excellent in taking stress from the output voltage up to 24V where other similar drivers reached 17V only.
You may ask why SCT2027 is special from other similar part. Yes there are many features that will be boosting up your product performance!
Major features you don't want to miss:
• StarChips Patient Error Detection: Data-In Error-Out
• Mode-less without mode shifting
• Command-less without command configuration
• Concurrently Open/Short Detection without selection
• Selective threshold voltage(VSD) for short detection
• Supply independent VSD
• 0-Current(0.5uA below) Shutdown for power-saving, shorter wake-up time(100us) for recovery
• Shorter error detection time ~20/200ns
• Half-current thermal protection, LED keep lighting-up
• ±1% Current matching between outputs
• ±1.5% Current matching between ICs
• Truly minimum PWM width 70ns, excellent gray response
• Gradually delay outputs to lower switching noise
• 16 constant-current outputs rate at 20V
• Built-in Power-On-Reset 1ms delay outputs
• High serial data transfer rate: 30MHz
Contact
Ms. Rowena F. Len International Sales Manager Cell: +886-934-361-833 Fax: +886-3-577-6575
E-mail:rowenahome@yahoo.com
Web Site:www.starchips.com.tw