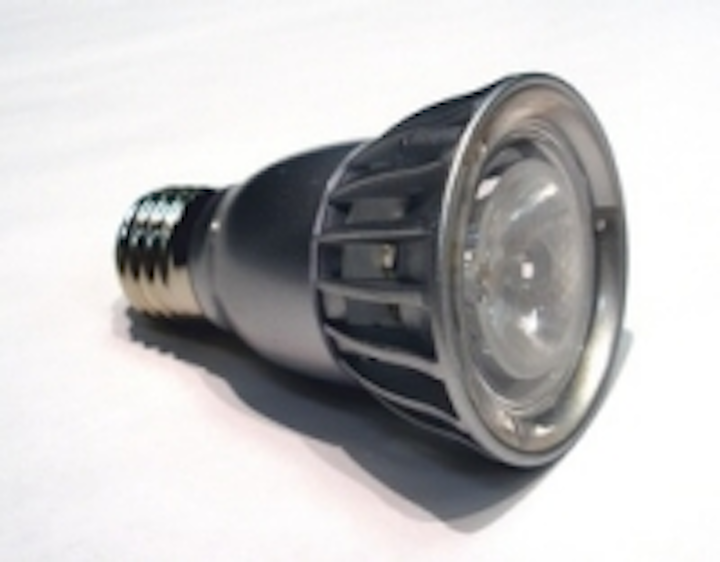 Date Announced: 09 Feb 2010
LedEngin, Inc., a leading innovator in high performance LED lighting technology for commercial buildings, LEED construction, restaurants, casinos and museums, expands its LuxPAR family of LED lighting products with immediate availability of PAR20 lamps in spot, narrow flood and flood beams and all color temperatures. LuxPAR 20 lamps are available through LedEngin and its representatives. For color temperatures and beam distributions visit www.luxpar.net.
"Our LuxPAR 20 lamps are the latest in our recently- launched LuxPAR product family. Our lamps offer superior color vibrancy, the widest dimming range available and far longer lamp life than comparable halogens. LuxPAR products have become preferred among commercial lighting experts for delivering the highest quality 'Lux on Target'," said Leonard Livschitz, vice president, marketing and business development, LedEngin, Inc.
LedEngin LuxPAR 20 lamps deliver:
• "Lux on Target": Highest quality light where it's needed.
• Center Beam Candle Power (CBCP) of up to 2,500 cd in spot beam and 1,500 cd in narrow flood beam options.
• Superior light intensity and color uniformity throughout beam.
• 85% energy reduction as compared with 50W halogen lamps.
• L70 greater than 50,000 hours.
• At 6.7W, ROI in less than 1 year compared to 50W halogen.
• ENERGY STAR® performance at 40 lumens/W.
• Minimal glare for greater visual comfort; zero UV light.
• Three year limited warranty.
About LedEngin, Inc.
LedEngin, Inc. is a California-based solid-state lighting company specializing in ultra-bright, ultra-compact LEDs capable of emitting 2,000+ lumens, delivering extreme flux density and industry-leading reliability. Commercially available LED products range from 3W to 40W in white, direct colors, RGB, RGBA, RGBW, Far Red, Deep Red, Dental Blue and UV. The company's family of LED replacement lamps and lighting modules provide superior quality light in directional applications equivalent to 35W to 90W halogen lamps. LedEngin also develops LED custom solutions and provides expert application support on optical, electrical and thermal management. Products are sold directly and through select distributors. www.ledengin.com.
See us February 10-12, 2010 at Strategies in Light booth 708.
Contact
Tel. +1 408-492-0620
E-mail:info@ledengin.com
Web Site:www.ledengin.com