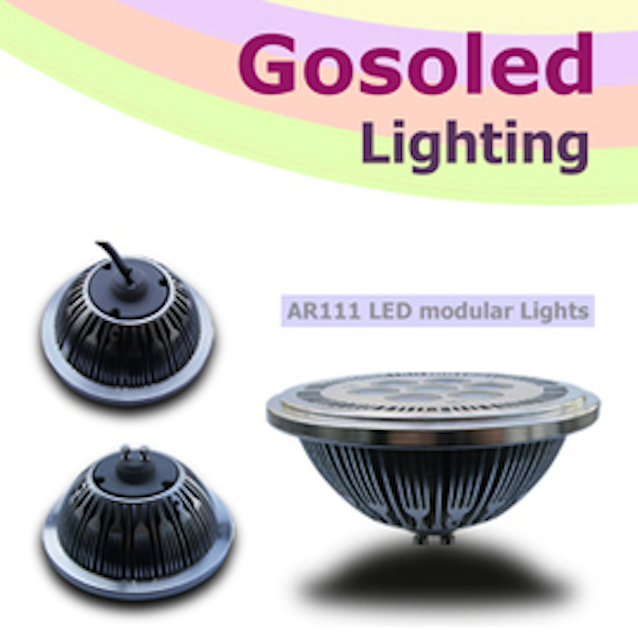 Date Announced: 08 Feb 2010
The modular design AR111 LED lights was based on the needs of actual application environment, ensuring reliable LED driver safety design, lamp based was fully encapsulated with the high-quality silica; avoid the heating from joining part of the LED drive and base. The terminal of the joining part was Babel and waterproof. The three rotating screw helps lighting maintenance easily from the waste of conventional lighting. All of all make the lamps achieved applicable of modular, standardization and Seriation, is reducing or eliminating the adverse effects on the environment, facilitated to recycling when waste.
Its detailed parameters are as follows:
1.Housing: Aluminum Alloy material with perfect heat conduction. The aluminum alloy heat dissipation efficiency is above 2 times to the die-casting aluminum. The effective lifespan is longer than the ordinary LED lamps depend on the faster heat dissipation, the higher luminous efficiency and lower light fades.
2.LED Source: 3*2W high power LED.
3.Reflector: Lens.
4.Panel: Made from Aluminum alloy. Beam angle: 15°/30°/45°.
5.Input Voltage: WIRES: AC/DC12V; GU10:110-240V.
6.Working Temperature: -20~ +40°C.
7.Life time: 50,000 hours (brightness maintenance rate 70%)
8.Color temperature: 6000K-6300K (CW), 2800K-3200K (WW).
9.Color Rendering Index: 80ra6000K, 85ra2800K.
10.Weight: 560g.
11.Package: White neutral Box.
12.It can works as a replacement of traditional Light. It can be widely used for hotel, restaurant, commercial & home lighting etc.
Our popular products include:
1) LED Lamps: led tube light, led plug-in lamp, dimmable led spot lights, par30 & par38 dimmable , ar111 dimmable led lights, led down lights, led light bulb, led flame lamp, led shading lamp, led candle lamp etc.
2) LED Driver: Indoor led driver, outdoor led driver, dimmable led driver, led tube driver etc.
For more information about Gosoled Lighting's products visit www.gosoled.com
Contact
planning department Gosoled Lighting Co.,Ltd TEL:+86(755)8350 0557 FAX:+86(755)8350 0556
E-mail:info@gosoled.com
Web Site:www.gosoled.com