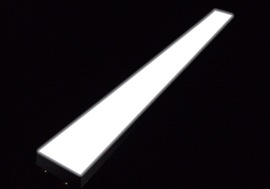 Date Announced: 22 Feb 2010
Global Lighting Technologies (GLT), Inc., developer of the world's most efficient LED-based display backlights, is continuing its technological progress with a new range of LED-based edge-lit illumination solutions to expand its offerings beyond LCDs, keyboards and keypads and into areas of egress lighting and general illumination.
"Edge-lit LED illumination has moved well beyond its established turf in backlighting portable and handheld product displays, and so has GLT," said VP & General Manager David DeAgazio, referring to the company's long-established success in super-efficient, ultra-thin BLU (backlighting unit) designs for a wide range of backlit displays.
GLT is enhancing the advantages of LED illumination with a new range of edge-lighting solutions utilizing high efficiency LEDs that focus the light into a high-performance backlight, or light guide. Because the LEDs are located on the edge of the light guide, there is better optical control for color and uniformity, fewer LEDs, better repeatability, and the thinnest possible lighting solution.
"GLT is leveraging its history of high efficiency edge-lit LED light guides to expand beyond LCD and keyboard backlights, though they remain important market segments for us," said Director of Sales and Marketing, Brett Shriver. "New solutions include edge-lit backlighting units for exit signs and all manner of egress lighting. GLT has also entered into the general illumination/solid state lighting market with new edge-lit illumination for downlights such as task lights and troffers."
"If it can be edge lit," said Shriver, "GLT can provide the best illumination solution." These new illumination solutions from GLT include edge-illuminated LED backlight panels for egress lighting and exit signs, downlighting, as well as under-cabinet, splash, desk task lighting, refrigeration, and cabinet illumination solutions (such as medical cabinets).
GLT continues to provide BLUs for LCDs, keyboards and keypads utilizing the most efficient LED-based edge lighting and the slimmest BLUs available for maximum brightness with optimum uniformity, superior color mixing and a smaller number of widely spaced, high-output LEDs with low-cost manufacturing and quick turnaround.
Pricing for GLT edge-lit backlights varies according to size, application, number of LEDs and quantity. Contact GLT for details.
For more information, contact Global Lighting Technologies, Inc., 55 Andrews Circle, Brecksville, OH 44141. Tel: 440-922-4584; Toll-Free: 866-922-4584; Fax: 440-922-4585.
E-mail: info@glthome.com Web: www.glthome.com.
About Global Lighting Technologies:
Global Lighting Technologies (GLT), Inc. was founded in 2000 to develop LED-based edge lighting technology for the latest generation of flat panel displays. GLT offers the world's most efficient LED-based edge lighting technology as well as MicroLens™ light extraction technology and improved manufacturing processes to provide backlighting packages that are thinner than ever for OEMs who need to meet increasing consumer demand for smaller, slimmer size with outstanding performance and more efficient light extraction. With 3 manufacturing facilities in the Far East, GLT is poised to deliver a better backlight at lower cost with faster turnaround.
Contact
440-922-4584 866-922-4584
E-mail:info@glthome.com
Web Site:www.glthome.com