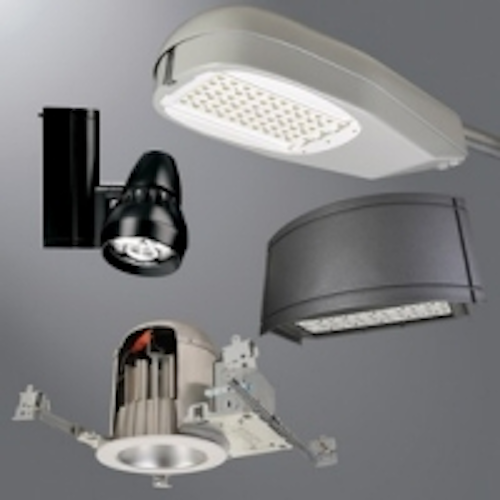 Date Announced: 19 Feb 2010
Cooper Lighting, a division of Cooper Industries plc (NYSE: CBE) has announced that four of its products have been recognized for excellence by the Next Generation Luminaires™ (NGL) Solid-State Lighting Design Competition. Sponsored by the U.S. Department of Energy, the Illuminating Engineering Society of North America, and the International Association of Lighting Designers, the second annual NGL competition was created to recognize and promote excellence in the design of energy-efficient LED commercial lighting luminaires. Cooper Lighting's four awarded products were chosen as winners in four different categories of lighting for both indoor and outdoor environments, showing diversity of the vast company offering of LED products.
The products that have been "recognized," meaning the products are recommended for specification, include Cooper Lighting's Halo Stasis LED track lighting luminaires, the Halo LED 900 recessed downlight series, the Invue LED Entri wall-mount luminaires, and the Streetworks OVH LED Cobrahead roadway luminaire.
"We are extremely honored to have our products recognized for superior design, performance and reliability," says Neil Schrimsher, President, Cooper Lighting. "We invest heavily in product development across all of our portfolio of quality brands and these awards validate our commitment to providing sustainable, energy-efficient LED solutions for our customers."
Earning praise in the accent lighting category, the Halo Stasis LED luminaire is a track-mounted accent fixture, available in two sizes (Small and Medium), three optical distributions (Spot, Narrow Flood and Flood) and two color temperatures (3000K and 4000K). Providing excellent color quality (85 CRI), the Small luminaire consumes only 8 watts with an equivalent intensity of a 50W PAR halogen lamp and the Medium fixture consumes 18 watts, providing the intensity of the 120W PAR halogen or 39W CMH lamp.
Recognized in the recessed downlighting category, the Halo LED 900 series is a new addition to the Halo LED 6" aperture high lumen downlight offering that delivers in the range of 511-945 lumens (depending on the trim and selected color temperature) yielding smooth beam distribution with excellent cutoff. Designed for new construction (with the LED housing Series H750x) or retrofit applications into compatible incandescent housings (using the Edison screw base adapter included), the Halo LED 900 series offers comparable light output and distribution of a 75W PAR30 or PAR38 halogen lamp, or a 26W compact fluorescent luminaire, while consuming less than 15 watts. In addition, the new Halo LED 900 series offers several models that achieve ENERGY STAR® qualification.
The Invue Entri LED was recognized in the wall-mount area lighting category. The state-of-the-art LED luminaire features architectural appeal in a compact form. Designers are offered vast versatility in function and performance through downward illumination, upward illumination or a combination of both, in addition to energy saving bi-level switching capabilities and egress solutions using LED battery packs. There is a choice of eight optical distributions and two lumen outputs. Entri's design offers effortless quick-mounting capabilities, toolless access, and sustainable design features that allow field replacement of the LightBAR™ and driver system.
Chosen in the street/roadway lighting fixtures category, the OVH LED area luminaire offers a choice of 15 optical patterns and four lumen outputs and is designed for area, walkway, and roadway applications. The 27"L x 13"W x 7"H housing is heavy‐duty, die‐cast aluminum. The entire LED assembly, individual LightBAR™ optical modules, and the driver can be replaced in the field. No tools are required for access. Cooper also offers this product in the Lumark and Streetworks brand portfolios.
Twelve judges independently evaluated 126 products by assessing their lighted performance and appearance, construction, and photometric data with special attention focused on serviceability/replacement issues. Forty-three commercial LED products were chosen as "recognized" winners and four were honored as "best in class." The winning products were announced and awarded at a ceremony at the Strategies in Light conference in Santa Clara, California held on February 11, 2010.
For additional information on the winning Cooper Lighting luminaires, email talktous@cooperindustries.com or visit the www.cooperlighting.com. Visit the NGL website at www.ngldc.org to view the winning products.
About Cooper Lighting
Cooper Lighting, a subsidiary of Cooper Industries plc (NYSE: CBE), is the leading provider of innovative, high quality interior and exterior lighting fixtures and related products to worldwide commercial, industrial, retail, institutional, residential and utility markets. As lighting technologies have advanced over the years, Cooper Lighting has been at the forefront of the industry in helping businesses and communities leverage the latest technologies to improve efficiency, reduce costs and enrich the quality of the environment. For more information, visit www.cooperlighting.com.
About Cooper Industries
Cooper Industries plc (NYSE: CBE) is a global manufacturer with 2009 revenues of $5.1 billion, approximately eighty-nine percent of which are from electrical products. Founded in 1833, Cooper's sustained level of success is attributable to a constant focus on innovation, evolving business practices while maintaining the highest ethical standards, and meeting customer needs. The Company has eight operating divisions with leading market share positions and world-class products and brands including: Bussmann electrical and electronic fuses; Crouse-Hinds and CEAG explosion-proof electrical equipment; Halo and Metalux lighting fixtures; and Kyle and McGraw-Edison power systems products. With this broad range of products, Cooper is uniquely positioned for several long-term growth trends including the global infrastructure build-out, the need to improve the reliability and productivity of the electric grid, the demand for higher energy-efficient products and the need for improved electrical safety. In 2009, sixty-one percent of total sales were to customers in the industrial and utility end-markets and thirty-nine percent of total sales were to customers outside the United States. Cooper has manufacturing facilities in 23 countries as of 2009. For more information, visit the website at www.cooperindustries.com.
Contact
Karin Martin Karin Martin Communications (630) 513-8625 Kmartin41@aol.com
E-mail:TalkToUs@CooperIndustries.com
Web Site:www.cooperlighting.com