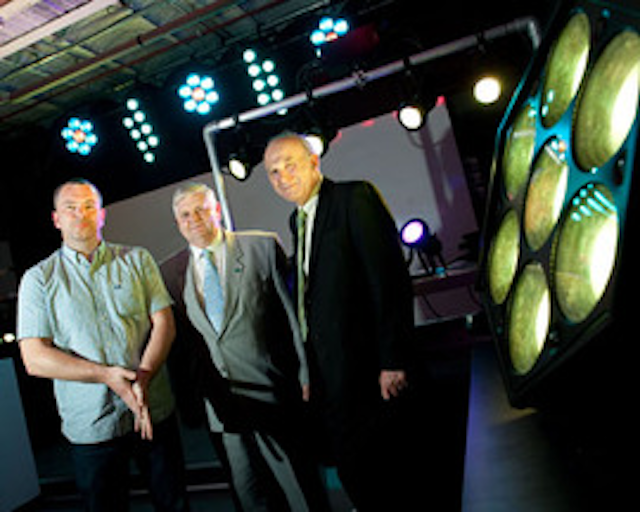 Date Announced: 26 May 2010
Vince Cable, the new UK Secretary of State for Business, Innovation & Skills visited UK specialist LED lighting manufacturer i-Pix, as part of a tour organised by David Goddard, Leader of Stockport Council, to illustrate the model of a successful economic regeneration project in the town of Greater Manchester.
i-Pix is one of a number of businesses in The 'Stockport Business Incubator', a project located in the Grade II listed Broadstone Mill complex in Reddish. It is a partnership between Stockport Council, the University of Manchester Incubator company and the Mill, which has transformed 40,000 square feet of the Mill into a state-of-the-art workspace with business incubation facilities.
i-Pix was selected because of its commitment to producing low carbon lighting fixtures and solutions for the entertainment industry, and because of the company's continued success.
As i-Pix has grown, it has expanded three times within the Mill complex. The last expansion involved the development of a custom designed facility, which houses manufacturing, sales and a comprehensive R 'n' D lab and demo facility.
Cable, Goddard and other council and government members met all of the i-Pix sales, admin and R 'n' D teams including the company's founder Chris Ewington, who comments, "We were really pleased to host the visit, Vince took a real interest in what we were doing, and we explained the product range and our philosophy of producing powerful, flexible eco-friendly lightsources to him."
Cable was particularly impressed with i-Pix' latest white light engine developments, and also in the story of the company as a pioneer of LED technology in its specialist sector.
He looked at the new i-Pix BB2 and BB2x2 units and the BB1 range - the first fixtures for which the white light engine was developed - which has now been extended to cover the whole range.
i-Pix products are manufactured solely in the UK and have always been developed with touring, event and presentation industry in mind, complete with rugged construction. The fully homogenised LED sources ensure the smoothest, non-pixelated light output, very similar in quality to an incandescent source but hugely brighter and more powerful for a fraction of the electricity consumption.
The new white light engines are 3 times the power of i-Pix RGB range, and include a tuneable version, which ranges between 2500°K and 6000°K.
Photo caption : L-R i-Pix Chris Ewington, David Goddard (Leader of Stockport Council, Vince Cable)
Contact
For more info on i-Pix, please call Louise Stickland on +44 (0)7831 329888 or +44 (0)1865 202679 or Email louise@loosplat.com. Call i-Pix direct on +44 (0)161 443 4140 or check : www.i-pix.uk.com
E-mail:louise@loosplat.com
Web Site:www.i-pix.uk.com