LSI Industries introduces third-generation Crossover LED canopy light series
May 28th, 2010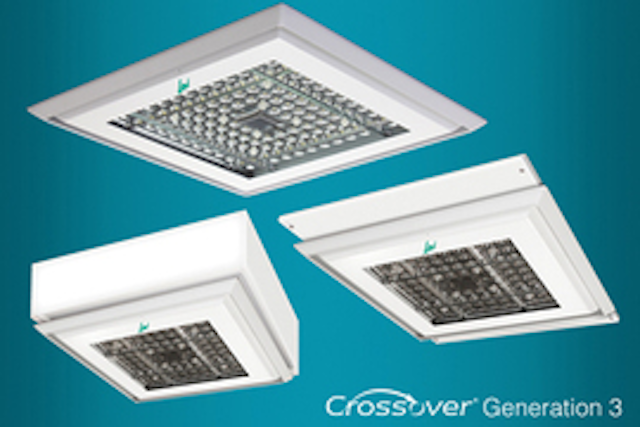 Date Announced: 28 May 2010
Cincinnati, OH – LSI Industries, the company that revolutionized petroleum with its Scottsdale® canopy lighting family, has taken its Crossover canopy lighting to a whole new level with the creation of the Crossover Generation 3 line. The Gen 3 was developed to provide the absolute best LED lighting solution at the most affordable cost. The Crossover Gen 3 delivers a refined level of lighting performance and control not found in any other canopy fixture today. This is made possible by further advancements of LSI's proprietary SmartTec™ technology, which is the intelligence platform that is built into every Crossover Gen 3 canopy fixture. With SmartTec you can be assured that the Gen 3 fixtures will provide reliable and constantly superior performance over the life of the product.
Crossover Gen 3 fixtures were designed to retrofit existing Scottsdale and Scottsdale-like fixtures without having to cut the canopy deck as well as for new construction.
One of the leading benefits of the Crossover Generation 3 canopy fixture is the use of LSI's innovative TriLume™ optics. The multiple optics and drive currents allow the site operator to choose the lighting that is best suited for the site's environment. When those optics have been chosen, LSI's simplified installation means that the Gen 3 fixtures can be installed in less than half the time when compared with other fixture designs. Once they have been installed, sites will experience significantly lower operating and utility costs thanks to LSI's SmartTec intelligent controls. These controls include sophisticated self-diagnostic intelligence that ensures a cool-running fixture as well as optional daylight sensing to eliminate "day burners" and occupancy-sensing to ensure the fixtures will dim when no presence is detected.
The Crossover Gen 3 fixtures have been designed to need virtually no maintenance with a typical 60,000 to 100,000 hours of expected life. The construction features a flat glass lens, which is an integral part of the TriLume optics design. This flat glass lens helps protect the fixture's LED chips and circuitboard from dirt and moisture, which ensures the fixture's lighting integrity. Further, the SmartTec controls offer two-stage surge protection, including surge protection that is built into the electronic driver module, which protects against lightning strikes and other voltage surges and anomalies. These fixtures have an IP65, IP66 and IP67 rating, have been IDA-approved as Dark Sky Friendly®, and have a green design that is RoHS compliant with recyclable glass and aluminum and no mercury.
The Crossover Generation 3 system is the result of LSI's 34-plus years of experience in delivering revolutionary lighting solutions, like the Scottsdale, designed specifically for the petroleum market.
LSI Industries is an Image Solutions company, dedicated to advancing solid-state LED technology in lighting and graphics applications. We combine integrated technology, design, and manufacturing to supply high-quality, environmentally friendly lighting fixtures and graphics elements for commercial, retail and specialty niche market applications. LSI is a U.S. manufacturer with marketing/sales efforts throughout the world, with concentration currently on the North American, South American, Asian, Australian, New Zealand and European markets.
LSI's major markets are the commercial/industrial lighting, petroleum/convenience store, multi-site retail (including automobile dealerships, restaurants and national retail accounts), sports and entertainment markets. LSI employs approximately 1,200 people in facilities located in Ohio, New York, North Carolina, Kansas, Kentucky, Rhode Island, Tennessee, Texas and Montreal, Canada. The Company's common shares are traded on the NASDAQ Global Select Market under the symbol LYTS.
Contact
Minda Matthews-Smith
E-mail:minda.matthews@lsi-industries.com
Web Site:www.lsi-crossover.com