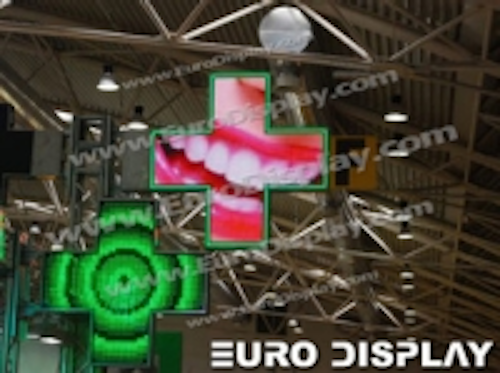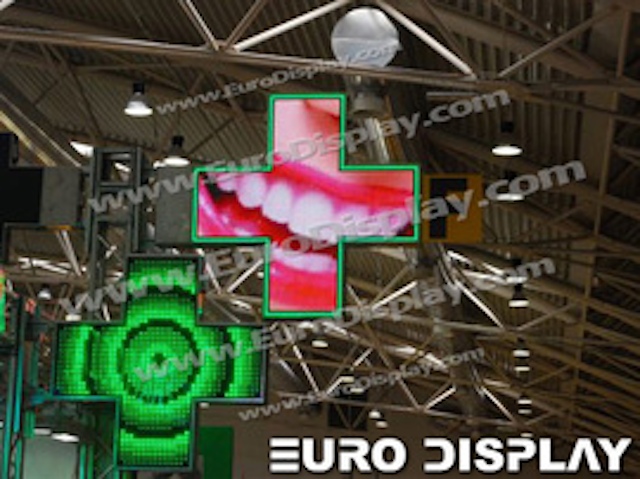 Date Announced: 12 May 2010
Rome -- Last weekend ended the annual fair Cosmofarma, the most representative event of the Italian pharmacy, an international fair among the top 3 most important in Europe.
Like every year, EuroDisplay participated with its pharmacy crosses, but this year with a huge novelty. After discontinuation of the exclusive distribution relationship with Nuova Neon Radelme in fact, for the first time EuroDisplay presented its pharmacy crosses directly to the public and found considerable interest among pharmacists and technicians.
During the fair, were presented for the first time the newest Full Color Pharmacy Crosses of 90x90cm, 120x120cm and the huge 150x150cm.
"The new full color pharmacy crosses are the result of our experience in LED screens, we produce since 1978," said Carmine Aversa, founder and owner of this EuroDisplay allotments to feel firsthand the feedback from the market.
"The full color pharmacy crosses of the PharmaScreen© series are real jewels of technology: we took everything we learned on LED screens in the last 30 years and we have miniaturized it."
"The price for orders during the exhibition is 5.500,00 Euros for the double-sided full color pharmacy crosses 90x90cm. The complete pricelist will be ready to the public shortly."
"We've done a grueling job of cost control in order to offer a price mora than 32% lower than the competition. All 100% Made in Italy, as always."
"Obviously also the fact that they deal directly to the Italian end-customers, without intermediaries and without any exclusivity bond, has helped make us so competitive. By skipping a step will were also able to cut-off all the costs related to the retailer."
"As a matter of fact, these full color pharmacy crosses are fully functional LED screens in miniature, with an embedded Apple MacMini computer that allows you to display anything and in any video format. The playlist management is very simple and we have created an extensive collection of videos for pharmacists who do not want or do not have time to develop them independently."
"I believe that the fullcolor pharmacy crosses represent the future of this niche market and the feedback we received confirmed it in full."
"I have to thank my technical team for creating perhaps one of our best products ever at a such competitive price. During the 3 days of the exhibition we have received orders for over 20 fullcolor pharmacy crosses and at least 3 new companies have listed this new product in their portfolio, a clear signal of where the market is going."
About Euro Display Srl
Since 1978 EuroDisplay is manufacturer and supplier of customized LED solutions. We manufacture and market LED screens for a wide range of applications – our main focus is digital signage, sports advertising and architecture solutions. With a rapidly growing market, we are always on the lookout for new LED screen applications – and we are happy to rise to the challenge with customised solutions and OEM production.
Contact
Euro Display Srl
Via Mahatma Gandhi, 21
10051 Avigliana, Torino
Italy
Tel.: +39/011-954-1015
Fax: +39/011-954-1017
E-mail: info@eurodisplay.com
Web Site: www.EuroDisplay.com
Contact
Euro Display Srl Via Mahatma Gandhi, 21 10051 Avigliana, Torino Italy Tel.: +39/011-954-1015 Fax: +39/011-954-1017
E-mail:info@eurodisplay.com
Web Site:www.EuroDisplay.com/