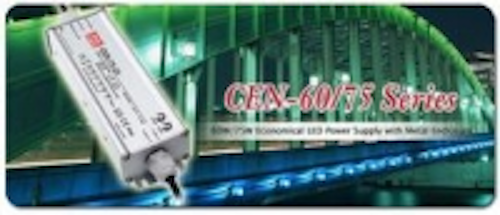 Date Announced: 14 May 2010
After launching CEN-100 (96W) series of economical LED power supplies, MEAN WELL continuously introduced lower wattage metal case models featuring with active PFC function and perfect waterproof/dustproof ability ~ CEN-60 (60W) and CEN-75 (75W) series. With special mechanical design, both series can meet IP66 requirement and save the cost of expensive heat-conducting glue. Meanwhile, thanks to the simplified single stage PFC topology, the required high power factor for the lighting industry can be achieved economically. In addition, the upper cover of CEN-60/75 have two small holes with waterproof structure that users can adjust the output current (75~100%) or voltage (±10%) easily without removing the cover.
With up-to date high frequency switching technology, CEN-60/75 posses up to 91% of high efficiency, so it can be cooled by free air convection from -30℃ to +70℃ambient temperature and meets the outdoor working requirements all over the world. In order to fit in with the outdoor harsh environment, full-aluminum case, stainless screws and waterproof cables are designed in these new power supplies. With 90~295VAC wide range AC input, CEN-60/75 series can fulfill the usage of 277VAC public power system in North America. Built-in active PFC function, they can meet the norms of harmonic current per EN61000-3-2 Class C, and also meet the requirement of PF>0.9 if loading over 75% (CEN-60) or 70% (CEN-75). In addition, these power units equip with 4KV surge immunity (EN61000-4-5) which comply with requirements of street lighting applications. Other standard functions / features include constant voltage (C.V.) + constant current (C.C.) operation mode, short circuit, overload, over voltage, and over temperature protections. CEN-60/75 series also comply with LED lighting related certificates per TUV/UL/CUL/CE, including EN61347-1, EN61347-2-13 and UL8750, which can greatly guarantee your safety. Typical applications include LED street lighting, LED display, general indoor/ outdoor LED-based lighting applications…etc.
Contact
MEAN WELL Enterprises Co. LTD No. 28, Wu Chuan 3rd Road, Wu-Ku Ind. Park, Taipei County, 248 Taiwan TEL: +886-2-22996100 FAX: +886-2-22996200
E-mail:info@meanwell.com
Web Site:www.meanwell.com