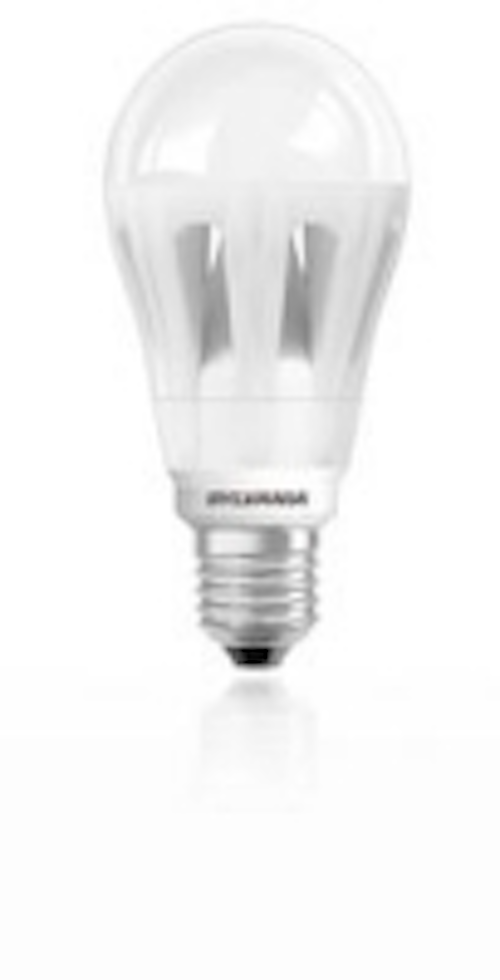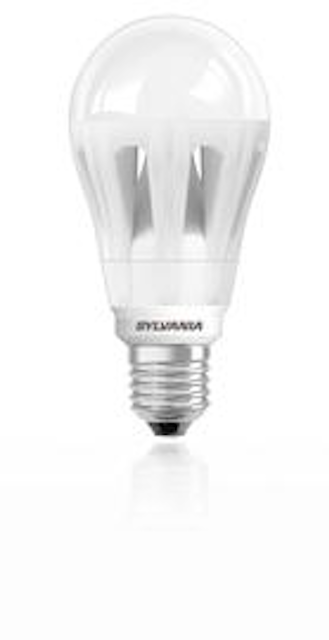 Date Announced: 14 May 2010
LAS VEGAS and DANVERS, Mass. -- Continuing to lead the way in providing cutting-edge LED products, North American lighting leader OSRAM SYLVANIA has introduced the brightest LED replacement for traditional 60W incandescent bulbs. The dimmable, mercury-free SYLVANIA ULTRA LED A-line 12W bulb is an energy-efficient alternative to conventional incandescent, halogen and compact fluorescent (CFL) bulbs. The LED bulb is part of the ULTRA High Performance Series, SYLVANIA's second generation LED retrofit product line.
"OSRAM SYLVANIA is committed to leading the LED race and making what's next in lighting," said Rick Leaman, OSRAM SYLVANIA president and CEO. "The SYLVANIA Ultra LED bulb will be the first 60W replacement on the market to offer energy savings without compromise."
Available for purchase beginning in late August, the new dimmable SYLVANIA ULTRA LED A-Line 12W bulb provides an unmatched 810 lumens and offers up to 80 percent energy savings over traditional incandescent bulbs. The lamp's estimated life of 25,000 hours is twelve times longer than traditional light bulbs, making it an energy- and cost-saving alternative.
The SYLVANIA ULTRA LED A-Line 12W bulb features color quality that rivals incandescent and halogen light sources, with a color temperature of 2700k and a high color rendering index of 90, and making it ideal for home lighting, including wall sconces, table lamps and ceiling fixtures. The bulb also offers enhanced renditions on deep red (R9) colors and skin tone hues, ensuring that colors match the quality provided by standard halogen and incandescent bulbs and surpass the quality of CFLs.
SYLVANIA's innovative new bulb reinforces the company's commitment to bringing cost and energy efficient LED lighting options to the consumer market. The environmentally-friendly lamp is mercury and lead free, making it an ideal choice for indoor and outdoor fixtures.
The SYLVANIA ULTRA LED A-Line 60W replacement is UL listed and FCC compliant.
About OSRAM SYLVANIA
OSRAM SYLVANIA is a leader in lighting solutions and specialty products that feature innovative design and energy saving technology. The company sells products for homes, businesses and vehicles primarily under the SYLVANIA brand name, and also under the OSRAM brand. Headquartered in Danvers, Mass., OSRAM SYLVANIA is the North American operation of OSRAM GmbH, a wholly owned subsidiary of Siemens AG. For more information, visit www.sylvania.com.
Contact
Stephanie J. Anderson OSRAM SYLVANIA 978.230.3121
E-mail:stephanie.anderson@sylvania.com
Web Site:www.sylvania.com.