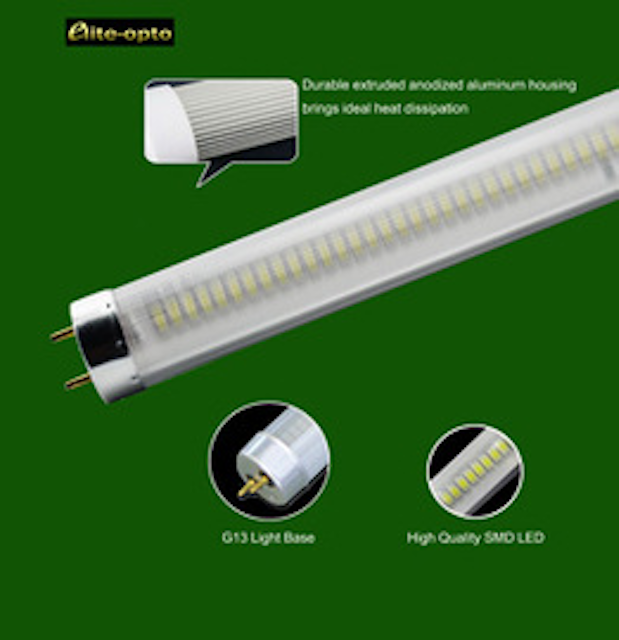 Date Announced: 14 May 2010
Shenzhen & Chengdu, China –- E-Lite OptoTech Co., Ltd., a leading innovator in high performance LED lighting technology for commercial and industrial applications, today unveiled its complete range of upgraded T8 light tubes with SMD LEDs.
Due to the LED's heat management design difference and capsulation materials difference, according to Mr. Seth Liao, the CTO of the company, the SMD LED light tubes perform far better than DIP LED tubes especially in terms of operation life time. E-Lite's own lab test reports the SMD LED tubes life time is 8-10 times longer than the DIP LED tubes when compared on a 24/7 basis.
With the company's proprietary design, E-Lite strives to deliver SMD LED light tubes with highest lux and superior light quality for measurable longevity and cost savings as compared with DIP LED light tubes and traditional fluorescent tubes.
E-Lite SMD LED T8 Tube Product Features:
• Complete range for various lux and tube length requirements
• 30,000 hours operation life time, much longer than DIP LED tubes
• Competitively priced to approach DIP LED tube pricing level
• Universal input 90-277VAC, 50/60Hz,
• Internal or external driver options available
• Aluminum heat sink design ensures superior heat management
• Resistant to shock and vibration
• Low power consumption. More than 50% energy saving compared to conventional fluorescent tubes.
• Environmental friendly. Lead and mercury free.
• No UV, no noise or flickering
• Superior color rendition
• Selectable color temperature
• Low maintenance costs
• Product designed and produced in accordance with ETL and UL testing standards
• ETL pending
About E-Lite OptoTech Co., Ltd.
E-Lite is a China-based solid-state lighting company specializing in high quality, ultra-bright LED lighting product for commercial and industrial applications. The company has extensive technical expertise in optical design, thermal management, materials compatibility and automated manufacturing processes. All E-Lite's LED lighting products are CE and RoHS compliant. The complete SMD T8 tube range is in progress of ETL application. E-Lite is currently looking for regional distributors worldwide.
Contact
Lynn Yao (Ms.) Director, International Sales & Marketing E-Lite OptoTech Co., Ltd. / JiaYao Group Cell: +86 137 0802 6820
E-mail:lynn.yao@elite-opto.com
Web Site:www.elite-opto.com