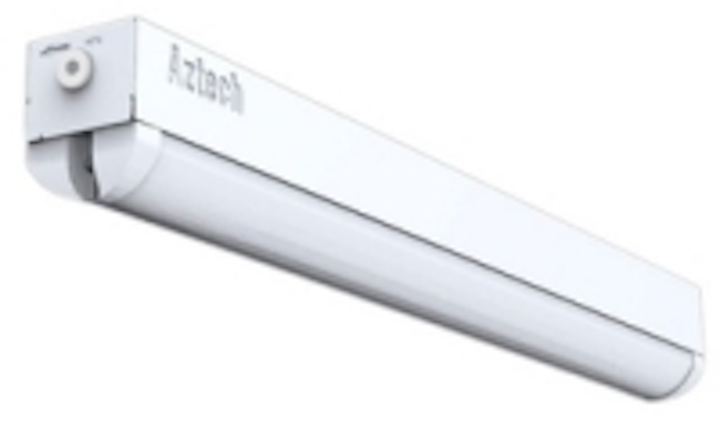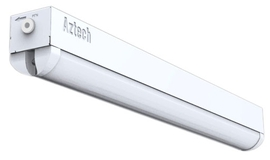 Date Announced: 26 May 2010
Aztech LF210 is a 2-feet Light Emitting Diode (LED) Surface Mounted Lighting Fixture for general lighting applications such as corridors, staircases and walkways. It is a perfect replacement for 2-feet T8 fluorescent tube luminaries. With a power consumption of 12W, it has 3 main components – LED Module, Power Supply Unit (PSU) and Lamp Holder.
General Specifications (Lighting Fixture)
Operating Input Voltage: 220 – 240 Vac, 50/60Hz
Luminous Flux: >600 lm
Electrical Power Consumption: <12W
Operating Temperature: 0 to 40 C
Storage Temperature: -40 to 80 C
Operating Humidity: >90% (RH)
Dimension: 601mm (L) x 60mm (W) x 78mm (H)
LED Module
No. of LEDs: 6 pcs
Colour Temperature: 6530 +/-510 K
Colour Rendering Index: >65
Luminous Flux: >600 lm
Operating Input Voltage: 16 – 21.6 Vdc
Operating Input Current: 450mA (constant current)
Interface Connector: IP67 DC Plug (male)
LED Module IP Rating: IP54
Lamp Holder Unit
Base Material: Electro-galvanized metal SECC with 120g/mm2 Zinc density with PR12 powder coating
Power Supply Unit (PSU)
Operating Input Voltage: 220 – 240 Vac, 50/60Hz
Power Factor: >0.9
Efficiency: >75%
Output Voltage: 24Vdc +/-5% (no load voltage)
Output Current: 450mA (typical) constant current mode
Output Power: 10W (max)
Protection Mechanism: Over Voltage / Over Current
IP Rating: IP54
Interface Connector: IP67 DC Jack (female)
In Singapore, Aztech has been awarded a tender by Jurong Town Council to supply and install Aztech LF210 at void decks, stairways and corridors of selected housing blocks in Jurong Town Council.
This project marks the first in Singapore to deploy eco-friendly, energy-efficient LED lighting for public housing. The customised LED lights consume less power and will help the town council save up to S$1.1 million in electricity bills annually. In a trial conducted in December 2008, LED lights yielded a 52% energy savings over a 10-month period compared to fluorescent lights. LED lights are also brighter and can last about 50,000 hours or 10 years, compared to 10,000 hours for fluorescent lights. During the trial, the town council did not receive any complaints from residents.
The selection of LED lighting provider was through a stringent process to address the council's concerns and Aztech was selected due to its R&D capability and ability to meet the stringent requirements. The other 14 town councils in Singapore have been encouraged to adopt LED lights for their housing estates as well.
The LED lighting project will be Singapore's first Programmatic Clean Development Mechanism (P-CDM) project in the United Nations. P-CDM is a mechanism created to reduce greenhouse gas emissions and contribute to sustainable development. This would allow the town council to trade in carbon credit for the savings in energy.
Contact
Jesmine Ong DID: (65) 6594 2276
E-mail:jesmine.ong@aztech.com
Web Site:www.azelite.com.sg