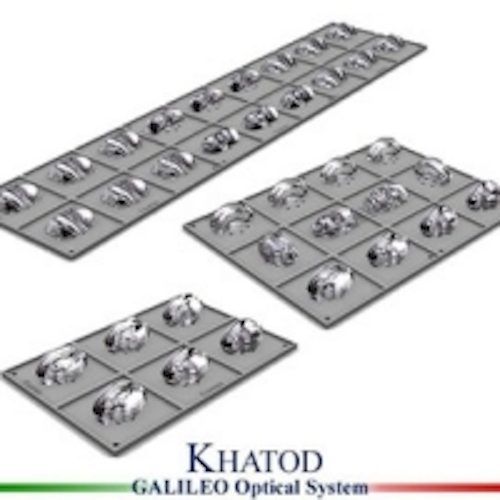 Date Announced: 06 Apr 2010
CINISELLO BALSAMO, MI, ITALY – Khatod Optoelectronic announced today the introduction on the market of Galileo Optical System, a ready-to-use optical module for any application in Wide Area Lighting based on Power LED Light Sources.
A new-concept product. No need to mount and direct each single lens in different beams in order to realize the pattern desired. A ready-to-use module holding the optics mounted and directed according to the requested specifications. A single module, conceived and designed for immediate application. A simple combination of modules allows to customize the optical application.
Galileo Optical System, today available in 54 models, adheres to the specifications ruling the Street Lighting applications and meets any other requirement in Wide Area Lighting using Power LED Light Sources.
The modules are available in 2 main families based on 2 standard layouts:
- Standard Layout : LED to LED, 50.8 mm pitch (2 inches)
- Standard Small Layout : LED to LED, 40.0 mm pitch (1.575 inches)
The modules offer countless possibilities for customization without any tooling cost.
Galileo Optical System development by Khatod included extensive work: new technology, innovative design, high optical expertise.
"We started from substantial research and advanced technologies to develop a product based on Power LEDs, complying with the Street Lighting Standards as well as with the Wide Area Lighting requirements," said Giuseppe Vasta, Khatod Optoelectronic President.
"Since the beginning we have realized that a real optical system was missing. The market was looking for a solution which could eliminate the need to use and test hundreds of single lenses in order to realize the requested lighting beam."
"An optical system allowing to be assembled onto the PCB in few minutes."
Galileo Optical System range, characteristics, dimensions and recommended models for any application are available online together with the catalogue, downloadable at http://www.khatod.com/cms/wide_area_led_lighting___home_page-1237432.html
About Khatod Optoelectronic:
Khatod is a leading manufacturer of innovative optical solutions based on Power LED Sources. Khatod offers new-concept modular optical systems for any application in Wide Area Lighting, a wide range of high technical optics for solid-state lighting applications, a proven capability to develop custom optics and a huge choice of optoelectronic components. Present on the market since 1985, Khatod Optoelectronic is based in Italy.
Contact
Khatod Optoelectronic Srl Via Monfalcone, 41 20092 Cinisello Balsamo (Mi), Italy Phone: +39 02 66013695 Fax : +39 02 66013500
E-mail:khatod@khatod.com
Web Site:www.khatod.com