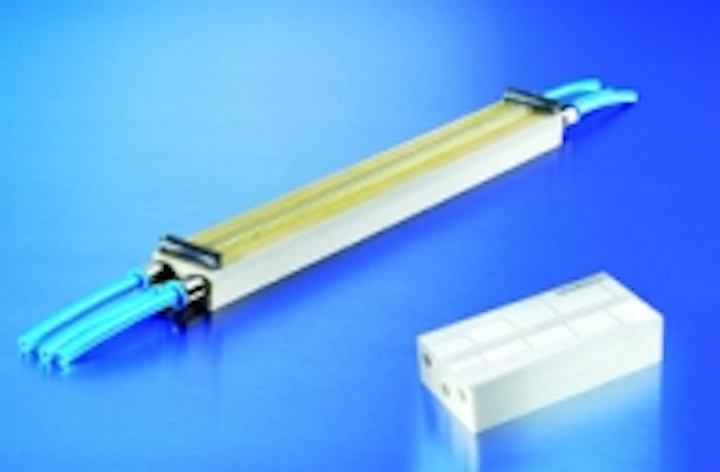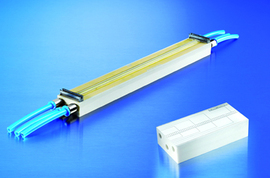 Date Announced: 20 Apr 2010
CeramCool Liquid Cooling made from the aluminum nitride ceramic Alunit cools packing densities of up to 75W / cm². Until now the elongated, rod-shaped heat-sink has only been manufactured using the alumina material Rubalit (≥22W/mK); extruding linear shapes was not possible with the more thermally conductive alumi-num nitride ceramic material Alunit (≥170W/mK). Now CeramTec has developed an aluminum nitride that makes series extrusion possible, enabling the production of linear cavities, which double cooling capacity compared to Al2O3. For example, Ce-ramCool Liquid Cooling using the alumina ceramic Rubalit cools 290W on 120mm; with Alunit, it is an impressive 640W on the same construction. No other design can achieve this and still assure such a long lifetime. The new geometry features three cooling channels to provide a homogeneous LED temperature.
The ceramic heat-sink is perfectly electrically insulating, inert and resistant to salt, acids and lye. This allows the trouble-free use of more than just standard coolants. On all sides of the heat sink, electrical circuits can be directly metallized and popu-lated with advanced components without creating any thermal barriers. The minia-turization of a heat-sink with a high packing density and an extreme performance range makes Alunit both thermally necessary and economically viable.
Contact
CeramTec AG Geschäftsbereich Elektronik CeramTec-Weg 1 95615 Marktredwitz Germany Telefon: +49 9231 69-0 Fax: +49 9231 69-62409 // 68453
E-mail:electronic_applications@ceramtec.de
Web Site:www.ceramtec.com